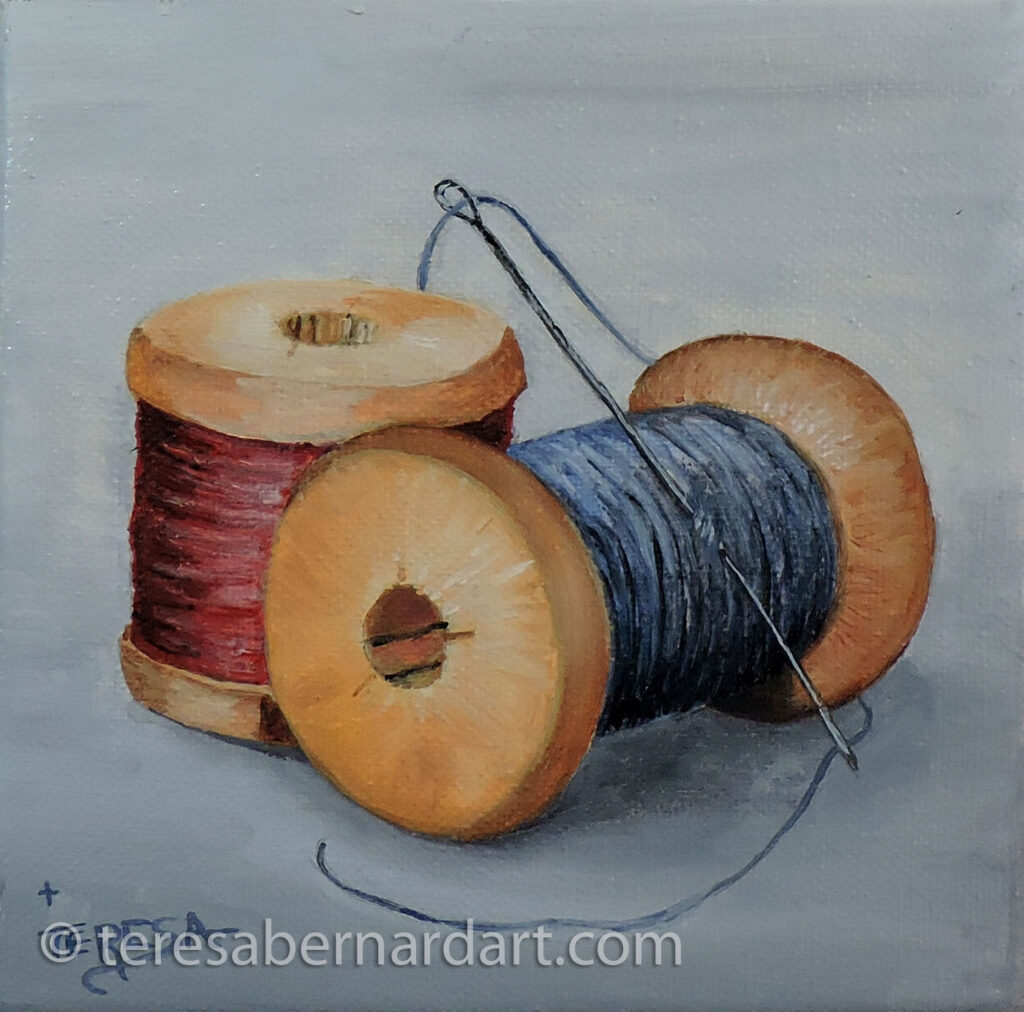 Size: 6″ w x 6″ h
Support: Gallery Wrap Stretched Canvas
Description:  A small still life painting featuring two antique wooden spools with sewing thread and needle. Composed on a gallery wrap stretched canvas, it will not need a frame because the composition extends around the edges of the canvas. One of two in a series. Hand-painted and signed by fine artist Teresa Bernard.
See Artist Comments below for additional information regarding this painting.
Authenticity Certified
This painting comes with an official Certificate of Authenticity. It is your guarantee the artwork you have purchased is a genuine Teresa Bernard Oil Painting.
Purchasing Information
NEW LOWER PRICE!
$120
was $150
FREE shipping and handling within the U.S.A.
Contact us for international postage and handling.
By purchasing your painting from this site, you are buying directly from Teresa Bernard. All transactions are via PayPal, a safe and secure way to make your purchase.
Artist Comments
This painting is part of a series called Great-Grandma's Antique Sewing Thread. I call it "great-grandma's" because we are now living in a modern age, and thread no longer comes on wooden spools. Our great-grandmothers would have probably used sewing thread spun on wooden spools.
The wooden spools you may find today are 50+ years old and are now antiques. Today sewing thread comes on spools made of plastic; and our grandmothers, and most assuredly, our mothers would have sewn their sewing projects using thread spun on plastic spools.
I remember playing with empty wooden spools when I was a young child in the 60-70s. As I grew older, my grandmother began teaching me how to sew doll clothes and other items. However, I barely remember thread coming on anything but plastic spools. I remember raiding my grandmother's sewing box for just the right color of thread I needed, and I remember finding some wooden spools there.
Unfortunately, wooden spools met their demise back in the 1970s when manufacturers stopped using them to spin thread on. It was purely a business decision. It had become more economical for them to use plastic spools instead. If you happen to come across a vintage sewing spool, don't throw it away; hang on to it. Wooden spools are antiques and do have some value. Just how much it is worth depends on how old the spool is and its condition.
Companion Painting
This painting has a companion painting called "Great-Grandma's Sewing Thread #2. Whether purchased with its companion or not, either of these paintings will look great proudly displayed in a sewing or craft room. Click on thumbnail for a larger image.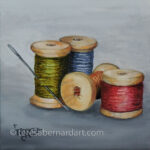 Have a question?
If you have a question about this painting, please contact us, and we'll be happy to answer any of your questions.
Other Still Life Paintings Of Interest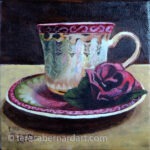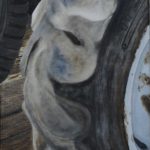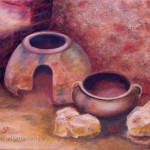 Teresa's Insider News
Be the first to know! Sign up here to be among the first to receive sneak peeks of recently completed paintings, new announcements, and other updates at the art studio.
Teresa has an insider newsletter, and it's FREE! This is her way of keeping her friends up to date by giving you sneak peeks of new paintings she completes, as well as other announcements before they are made public. Her newsletter is published every other month, so be sure to get on her mailing list. You don't want to miss a thing!
Your Feedback
♦ "Teresa, you are absolutely amazing with your artwork! Especially the fine intricate details of small things. The realism is so impressive and appreciated. God has blessed you!" — Karen Nash, TAKE ME HOME COUNTRY ROAD, MeWe
♦ "I have a few of those old wooden spools."  — Nancy Scott, TAKE ME HOME COUNTRY ROAD, MeWe
Thanks for looking!
Feel free to share this with your friends.
---
UPDATED: 15 August 2021