A painting of the Rubjerg Knude Lighthouse in oils on canvas. This lighthouse stands watch alone on the North Sea shores of Denmark.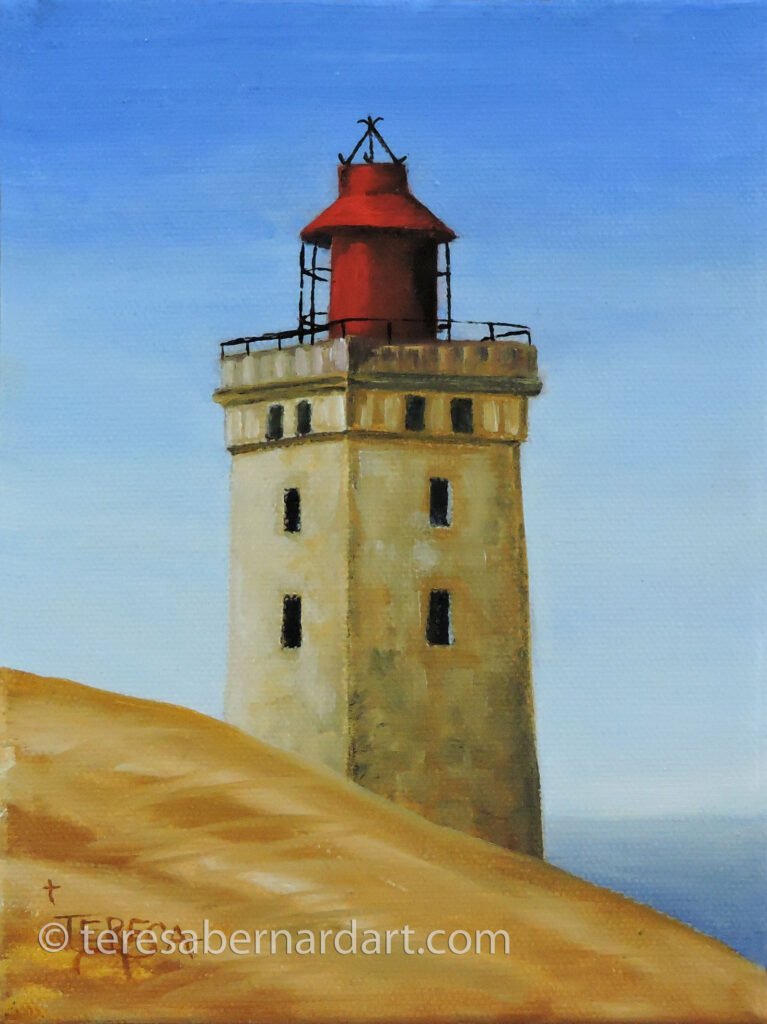 $140
FREE shipping and handling within the U.S.A.
Contact us for international postage and handling.
All transactions are via PayPal, a safe and secure way to make your purchase.
About this Painting of the Rubjerg Knude Lighthouse
Title: Rubjerg Knude Lighthouse
Size: 6″ w x 8″ h
Support: Gallery Wrap Stretched Canvas
Shape: Vertical (portrait)
Description:  A small canvas painting of the Rubjerg Knude Lighthouse. Behind the watchtower, one can see Denmark's North Sea in the distance. The lighthouse, which sits on the sand dunes in the foreground, dominates the artwork. The painting is signed in the lower left corner by artist Teresa Bernard.
This painting's small size makes it perfect for small rooms or areas where space is limited. It measures 6×8 inches and is hand-painted on gallery wrap stretched canvas. Rubjerg Knude Lighthouse won't need a frame because the painting's composition spreads out around the edges of the canvas giving it a fashionable look. Framed or unframed, this painting will look great in your home, office, or any place it is put on view.
Copyright watermarks are prominently visible on all online artwork images. This watermark is to prevent unauthorized use of the painting's image. It is not depicted in any of the original canvas paintings.

This painting comes with an official Certificate of Authenticity. More information here.
Artist Comments
I'm fascinated by lighthouses! While living on the east coast, I had the opportunity to visit several of them on the shores of the Outer Banks. I also enjoy painting them and have done so numerous times throughout my fine art career. Several of those paintings were of lighthouses I had visited while living nearby. There are, however, many others in this big world that I have yet to visit and hope to do so someday. One such lighthouse is the Rubjerg Knude Lighthouse. It is the subject of this painting.
More about Rubjerg Knude Lighthouse
On the sand dunes of Denmark's North Sea coast sits a lonely watchtower known as Rubjerg Knude Lighthouse. Its beacon once stood watch, guiding ships and other watercraft through dangerous waters. Today, however, it is in danger of falling into the sea. Shifting sands and coastal erosion are major issues in the area. The coast is eroding at a rate of 4.9 feet per year.
The lighthouse ceased operating in 1968. Its buildings were then used as a museum and coffee shop for a number of years before being abandoned due to shifting sands. The small buildings were later demolished after being severely damaged by the sand pressure.
At the current rate of erosion, the tower would have fallen into the sea by 2023. However, in 2019, a preservation group set about relocating it, and the 75ft-tall, 720-ton lighthouse was moved 230 feet inland on specially built rails. The relocation is expected to ensure the lighthouse's survival until at least 2060.
Have a question?
If you have a question about this painting, please contact us, and we'll be happy to answer any of your questions.
Other Lighthouse Paintings of Interest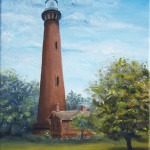 Your Feedback
♦ "That's really sad! I hope they can save it! This is a gorgeous painting of it!" — @WonkyArtist, TRUTH Social
♦ "I am very fond of lighthouses and your work is exquisite. " — @Dftw21, Gab
Thanks for looking!
Feel free to share this with your friends.
---
UPDATED: 15 January 2023