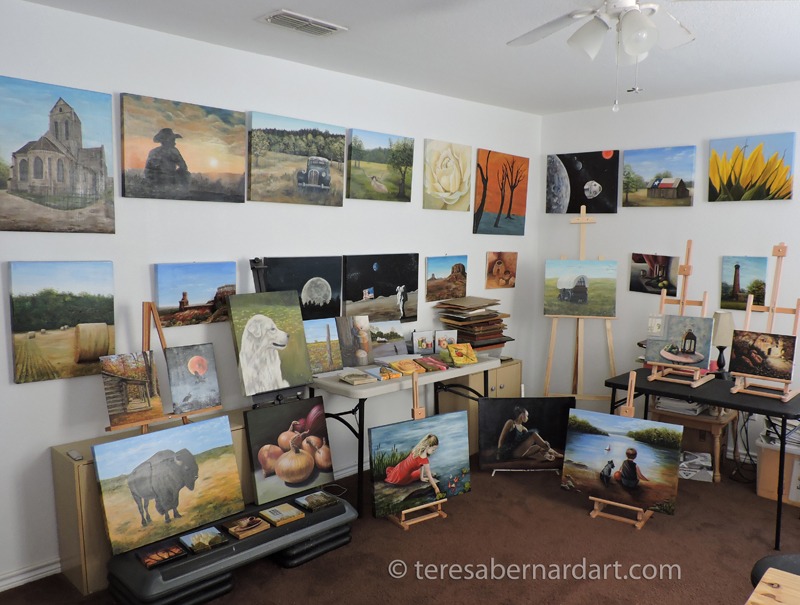 In need of storage for my paintings. They are everywhere!
I'm no longer in the workforce, which means I have more time to paint. My retirement affords me the freedom to paint as much as I want, whenever I want. However, I am now in a position where I require more space to store all of these paintings until they go to their new homes. To address this need, I created a lightweight yet sturdy art storage rack for my fine art creations.
A "Do-It-Yourself" solution for storing my artwork.
Pictured here is the art storage rack that I designed to house my paintings. My husband helped me build it in one afternoon.
The supplies for this project were purchased from a local hardware store.  We used 1/2″ PVC pipe and the appropriate fittings to bring it all together.  Its overall size is approximately 3ft wide x 3ft tall x 2ft deep. Neither my husband nor I had ever worked with PVC before, so it was a bit of a learning experience for us, though not a difficult one. It wasn't hard to build; it just took some thought as we were constructing it. The only tool required for this project was a PVC pipe cutter. And once the various pieces were ready, the assembly was quick and easy. I now have a sturdy DIY storage rack that works for my paintings and blank canvases.
What do you think of my solution? I'm satisfied with how the rack turned out. I'm quite confident you could build something similar if you decide to go the same route as me.
Thanks for reading this!
Feel free to share this with your friends.
---
UPDATED: 11 March 2023