A tightly cropped composition of a tractor tire is depicted in this painting. This artwork is ideal for anyone who enjoys life on the farm.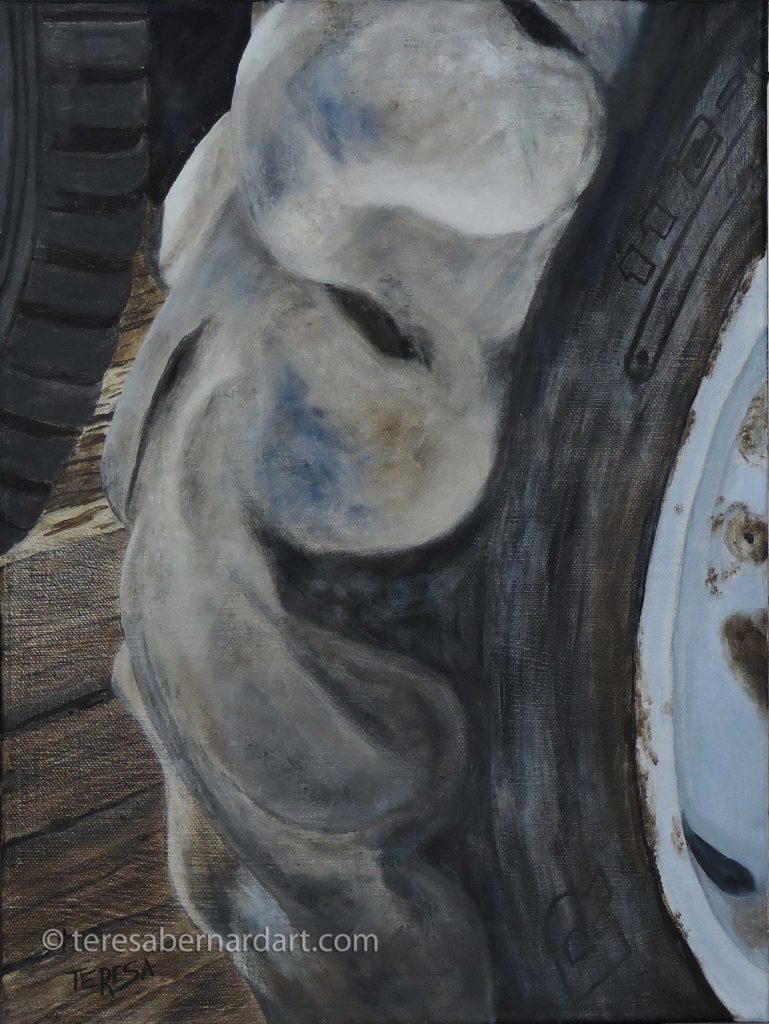 $280
FREE shipping and handling within the U.S.A.
Contact us for international postage and handling.
All transactions are via PayPal, a safe and secure way to make your purchase.
About this Tractor Tire Painting
Title: Tractor Tire, A Study of Texture
Size: 12″ w x 16″ h
Support: Gallery Wrap Stretched Canvas
Shape: Vertical (portrait)
Description:  A close-up painting of a tractor tire, a common farm implement. The tire is worn and the rim is rusted. A wood plank floor can be seen in the background, with another tire peeking in. This painting is ideal for anyone who enjoys farm, country, or rustic decor.
This work of art will not need a frame as the painted composition extends around the edges of the stretched canvas. Hand-painted and signed by artist Teresa Bernard.

This painting comes with an official Certificate of Authenticity. More information here.
Artist Comments
This Tractor Tire painting was a little bit of an experiment for me. I like to give myself challenges from time to time. For this particular challenge, I wanted to see if I could paint rubber and make it look like rubber. I believe I achieved that goal.
What I like best about this painting are the various textures present in the composition — the wood, the rubber, and even the rusted metal rim. It was an enjoyable challenge painting all those textures and getting them just right. In addition, there are warm colors that contrast against the cool ones. There are so many interesting things going on in this painting; it was a lot of fun to paint!
This painting would be the perfect art piece for the man cave, especially if you love farm tractors or cars. I can imagine no one would have ever thought a tractor tire would be the focal point for a painting.
Other paintings that were a study of texture are: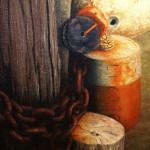 For more information on the subject of texture and how it is used in art, see the art lesson: Basic Art Element — Texture
Have a question?
If you have a question about this painting, please contact us, and we'll be happy to answer any of your questions.
Other Vehicle Paintings of Interest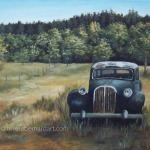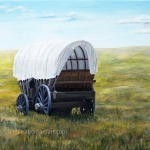 Thanks for looking!
Feel free to share this with your friends.
---