A still life painting of clay pottery done in earth tones using a limited color palette.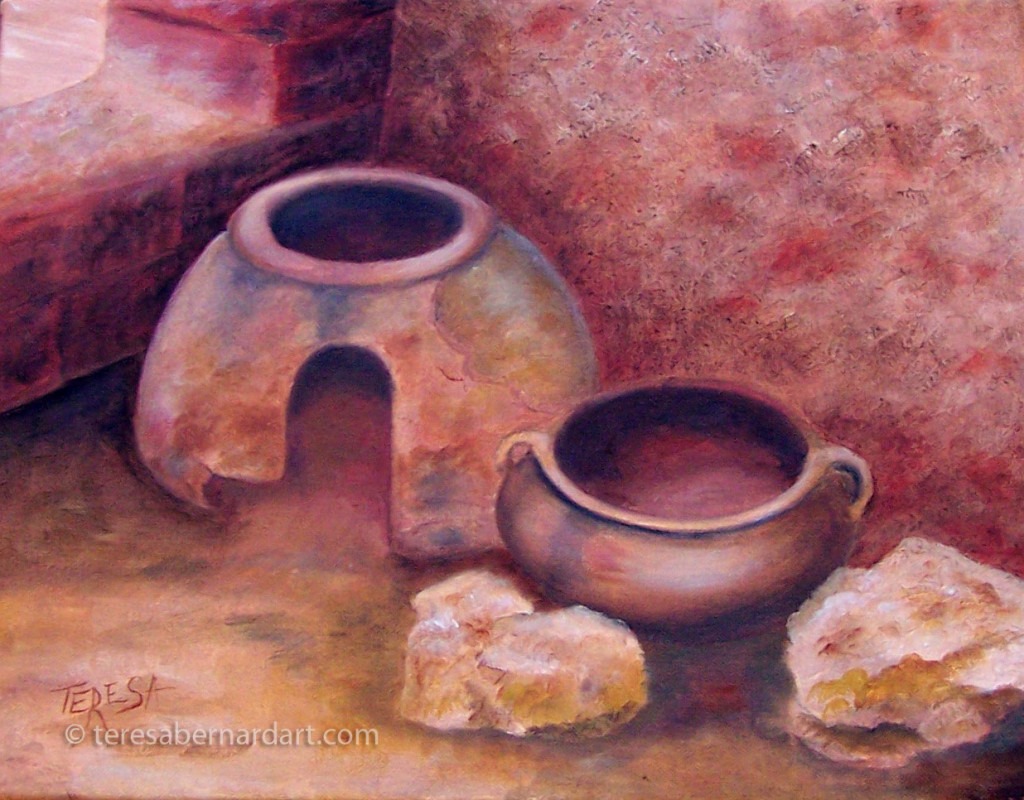 $250
FREE shipping and handling within the U.S.A.
Contact us for international postage and handling.
All transactions are via PayPal, a safe and secure way to make your purchase.
About this Clay Pottery Painting
Title: Still Life with Clay Pottery
Size: 14″ w x 11″ h
Support: Traditional-style Stretched Canvas
Shape: Horizontal (landscape)
Description:  A still life painting of clay pottery, as found in an Iron Age kitchen. It is painted in earth tones with a limited color palette. A clay pot and oven are seated among large rocks used to heat the pottery for cooking, with an adobe wall in the background. The painting is signed in the lower-left corner by fine artist Teresa Bernard.
Still Life with Clay Pottery is hand-painted on a traditional-style stretched canvas with the sides left raw or unpainted. It will need to be mounted in a frame before it is put on display. Adding a frame will give the painting a finished look.
Copyright watermarks are prominently visible on all online artwork images. This watermark is to prevent unauthorized use of the painting's image. It is not depicted in any of the original canvas paintings.

This painting comes with an official Certificate of Authenticity. More information here.
Artist Comments
Still Life with Clay Pottery is a monochromatic painting that features everyday household items that would have been found in a typical kitchen in Israel or Jordan during the Iron Age (1200-586 B.C.). While visiting the "Holy Land Photos" website, I found some interesting photos of a reconstructed Israelite House on display at the Haaretz Museum in north Tel Aviv. This painting is from one of those photos.
Note: Permission to use the photo as a painting source is courtesy of Holy Land Photos.
Have a question?
If you have a question about this painting, please contact us, and we'll be happy to answer any of your questions.
Other Still Life Paintings of Interest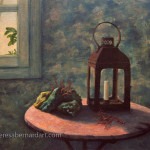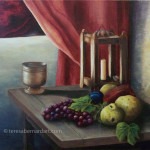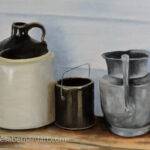 Thanks for looking!
Feel free to share this with your friends.
---