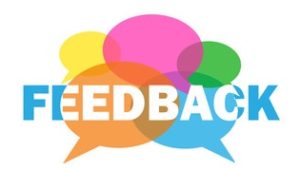 Through the years many admirers of my artwork have emailed letting us know what they think of my oil paintings. I thought you might enjoy reading what they have to say. This post contains feedback from my fans all across America. I would love to hear from you too! Email me your comments.
"You are so talented! In this age of AI, it's heartening to see real creativity within someone who has received a gift from God and is using it to bring beauty into the world." — @F_to_the_U, Gab
"Your art is amazing. I am so amazed by your talent." — Roberta B., Crosby, TX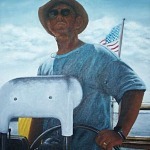 "Hey Doll, I visited your art website today and was totally amazed at all the folks who have enjoyed your paintings and took the time to comment in your feedback section! I think it's great & I am so proud of my wife!!! Not to mention, I too enjoy all your artwork!! Your Hubby." — Robert Bernard, Ben Wheeler TX
"Robert, Tell Teresa I think her paintings are awesome!!! The detail she takes from the original photos, and then using other backgrounds looks perfect. Great work, Teresa!" — Father Dan, Prince of Peace Church, Whitehouse TX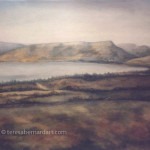 "I really like your paintings–the portrait of your husband is very unusual in composition and the backlighting–wish I could see it in real life. Another that really caught my eye especially is the Sea of Galilee at Capernaum–the light in the sky is particularly indicative of something spiritual, even if one didn't know a thing about the religious significance of the place." — Elena M., Columbia, MD
"Jim and I looked at your pictures online. They are fabulous. Your talent has really grown. I think you have way surpassed your dad. He would really be proud of you." — Debra Dove, San Antonio TX
"Thank you so much for stopping by today. It was a pleasure to meet you and learn of your travels and interests. Teresa, I visited your website and WOW, you are much too modest. God has truly blessed you and uses you mightily." — Eva S., Centaur Arabian Farms, Flint TX
"OUTSTANDING work! I am impressed, very nice artwork. I particularly liked the Clown Fish piece! Your site is also excellent. Thanks for visiting my site, requesting a link exchange, and any future correspondence. Keep up the great work (I know, cliché – but sincere). — Jason S., College Station TX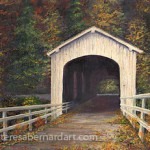 "Your paintings are sooooo beautiful and realistic. I live in Oregon and wish I could have purchased your Lane County Covered Bridge. I am in awe of your work and just can't say enough nice things about your paintings. Wish I could do it!!!!" — Susan A., Oregon
"I like your work very much. I grew up in Lane County near a bridge very much like the one you painted. When I went to my High School class reunion in 1984, the bridge had been replaced by an open bridge. I have not been back to Oregon since." — Donna B., Texas
"God has blessed you with wonderful talents! May He also bless you with lots of sales too. Keep Arting!" — Jeff W., Lansing MI
"Teresa, I looked at your site as soon as we got home from church. What a gift! Some time I would love to see your work in person. Wow… God bless." — Janet Plymale, Tyler TX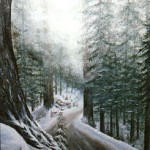 "You captured your feelings in these snow pictures they are truly a work of art. You will be recommended to my friends and please make lithographs for future releases maybe in years to come. By all means I"d love to see more of these." — L. Mundy, Santa Clarita CA
"Your website is very nice! But your paintings are beautiful!!! I enjoyed my wander through the pages of your very talented work." — Millie C., Denver CO
"Love your work — we might want to put it on our site eventually." — Will B., Hondo TX
"Your paintings are lovely. Such beautiful lighting. I think you are very talented and your work is very well executed. I wish you lots of luck." — Sue M., New Jersey
"Oh, I just viewed your website again. I absolutely love your paintings. I'll have to have one." — Patricia F., Tyler TX
"It looks like God has blessed you with a great talent! Thank God that He enables us with this gift!" — Kathleen W., Fort Wayne IN
"I love your website!! It's very easy to use and the paintings are absolutely beautiful! I love that you've added the religious paintings, I look forward to seeing more. God has blessed you with a wonderful, wonderful talent!" — Diane H., Fairborn OH
"Super! I loved your artwork! WOW! What incredible talent. Rachel and I would love to see more of your work. Thanks for your time yesterday and for hearing our heart for Hampton Church of the Nazarene. I know that God has something good in store for us as we follow after Him!" — Pastor Mark W., Hampton VA
"Hi, I like your paintings, I paint too. I paint rustic paintings in oil and have sold several. I enjoyed your art, it's very nice." — Faye, Arkansas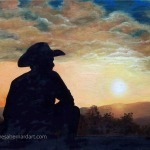 "Absolutely love your sunset and portrait of a man. What is the price for a commissioned painting from a photo?" — Kerri K., St. Paul MN
"Your paintings are beautiful!!" — Kristine Nichols, Hampton VA
"Your paintings are awesome!!!!! You are also very talented in Web design. You are blessed!" — Tim B., Hampton VA
"I checked out your Web site. Looks awesome! God has really gifted you." — Brian Forester, Norfolk VA
"I checked out your Web site and loved all of your paintings. Very nice site too!" — Jeannie Richardson, Highlands TX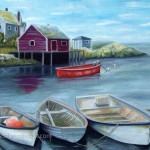 "I'm a family doctor in a small town in northern Maine. I really love all your paintings. I'm so taken with the Peggy's Cove painting – it's so lovely. I grew up in Newfoundland where all the houses were painted a bright color to offset the grey weather that could otherwise be depressing. The red house and the ocean remind me of home. The painting brings a smile to my face." — Janet B., Houlton ME
"Beautiful Web site. You have great style and a lot of artistic talent." — Gelinda R., Honolulu HI
"Are your paintings for sale? I think they are wonderful!" — Jennifer B., Virginia Beach VA
"Saw your artwork – it is great! I too am an artist." — Bonnie K., Houston TX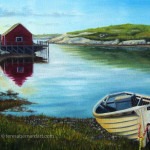 "A while ago I came across your Web site and found your beautiful paintings. I am not an artist at all or have much knowledge about art, but some of your paintings have something that lifts them above 'just a nice picture,' something that draws, that makes you look at them again and again. I love in particular your painting of Peggy's Cove, Nova Scotia. It looks so pure and unspoiled, it has a dreamy atmosphere to it." — Meike E., Chester NJ
"Your Web site is very professional. I'm impressed!" — Susan King, Sisters OR
"You have a great Web site. I think it's very professionally done. I also like your paintings. I'm stationed on a ship in the Navy. I showed your Web site and paintings to my fellow shipmates and they were very impressed as well." — Robert B., Norfolk VA
"GREAT SITE! I was amazed by your oil paintings. They look every bit as good as those I see in galleries done by local artists. I am so impressed by how far you have developed your talent. Your site worked very well for my browser too." — Kris Erickson, Sumner WA
"Looks great Mom, keep up the good work!" — Sheldon Burquist, Tyler TX
"Your artwork is quite impressive. I enjoyed my visit to your Web site. Thanks for sharing." — Dan B., Azuza CA
"Your oil paintings are very good. Keep up the good work." — Alicia Gillette, Hampton VA
Thanks for reading this!
Feel free to share this with your friends.
---
UPDATED: 04 June 2023