This small wildlife painting depicts the Texas Horned Lizard. It would make an excellent gift for a budding herpetologist or someone with an interest in reptiles.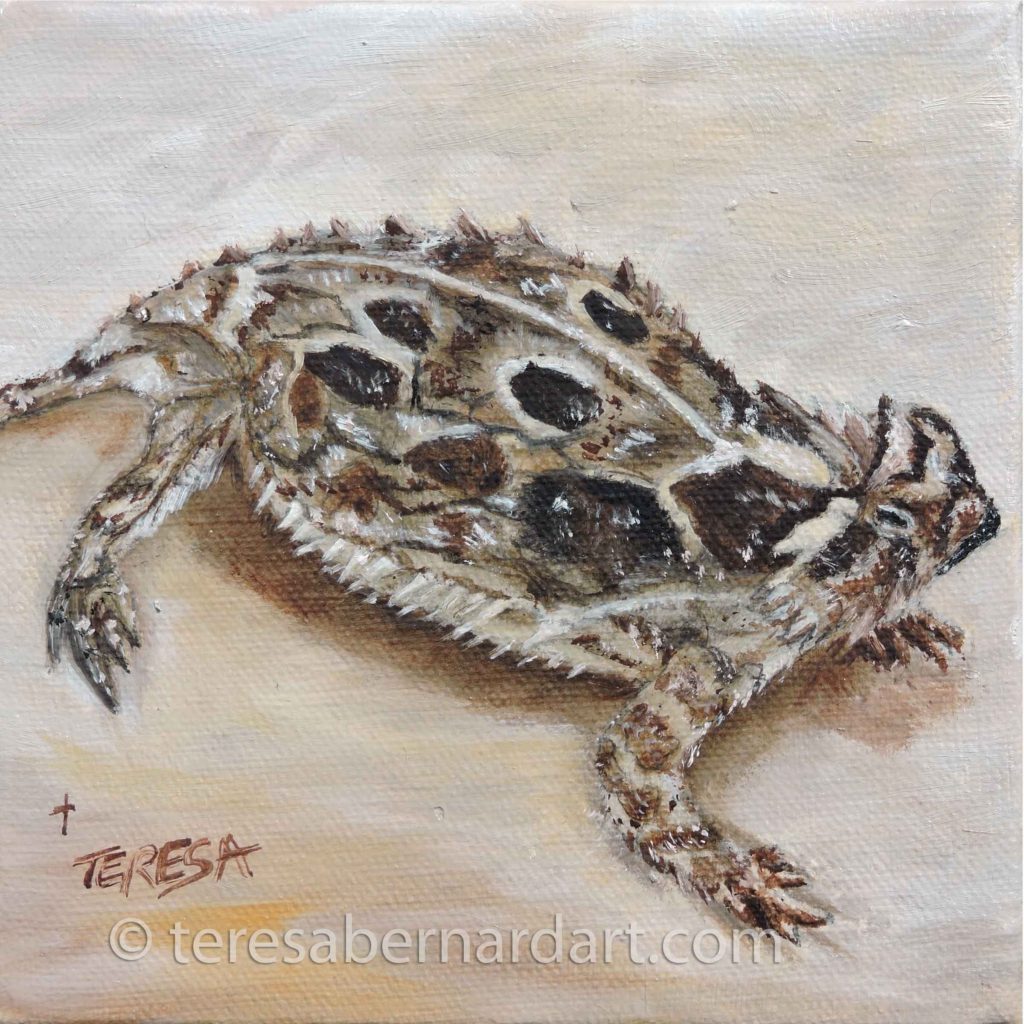 $120
FREE shipping and handling within the U.S.A.
Contact us for international postage and handling.
All transactions are via PayPal, a safe and secure way to make your purchase.
About this Horned Lizard Painting
Title: Texas Horned Lizard
Size: 6″ w x 6″ h
Support: Gallery Wrap Stretched Canvas
Shape: Square
Description:  A wildlife painting of the Texas horned lizard, also known as the horny toad by native Texans. This is a close-up painting of the lizard who sits on a neutral-colored background. The artwork is signed in the lower left corner by artist Teresa Bernard.
This is a small painting measuring 6×6 inches. Its compact size makes it perfect for small or limited spaces. The artwork is hand-painted on gallery wrap stretched canvas and won't need a frame because the Texas Horned Lizard painting image extends around the edges of the canvas support giving it a contemporary look. Whether you choose to have it framed or leave it unframed, it will look great in your home or office, or any place it is displayed.

This painting comes with an official Certificate of Authenticity. More information here.
Artist Comments
The Texas Horned Lizard, or simply "horny toad" as we called them when I was a kid growing up in west Texas, was a fun painting to do. It brought back lots of fond childhood memories. As children, my friends and I would see these little spiked critters all the time and often would play with them for a while, and then we would release them. As an adult, I noticed they aren't in abundance so much anymore. So I did a little research to find out why. This is what I discovered from my readings.
In Search of the Horny Toad
About 70% of the Texas horned lizard's diet is made up of harvester ants. Through the years, their population has declined by about 30%. Although I'm happy to read that they may be making a comeback. The decline is due to the overuse of pesticides and the spread of nonnative fire ants. Both eradicate harvester ant colonies, destroying the lizard's principal source of food. The Texas horned lizard is now a protected species, and, in Texas, it is illegal to take, possess, transport, or sell them without a special permit.
According to Texas Parks & Wildlife magazine, issue August/September 2018, "Texas horned lizards once occurred throughout Texas, but now only a few populations remain. Efforts to move Texas horned lizards from one location in Texas to another, with the hope of establishing new self-sustaining populations in previously occupied habitats, are underway. Several Texas zoos are also working to develop colonies for reintroduction programs. RAWA (Recovering America's Wildlife Act) funding would pay for "lizard factories" to help with reintroduction efforts."
I shared a post about my findings on social media and received some interesting comments from my friends and followers.
One friend whom I've known since my early teen years lives in a small Texas town. She told me they have a horny toad festival every year called The Old Rip Festival. And it's all about a horny toad named Old Rip! She sent me a link to the Texas Parks and Wildlife Magazine website. It tells all about the legend, lore, and legacy of Old Rip, a horny toad that supposedly lived for 31 years!
Another follower comments, "you still see these in West Texas and Panhandle. Fire ants haven't taken over every inch of ground as they have here, and harvester ants are still there, so that helps with the "horny toads." Hope they make a comeback here someday."
Have a question?
If you have a question about this painting, please contact us, and we'll be happy to answer any of your questions.
Other Wildlife Paintings of Interest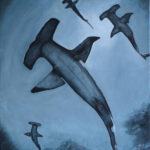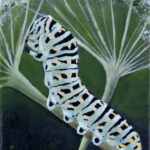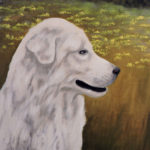 Your Feedback
♦ "Interesting, so beautiful.." — Andy Baldwin, NATURE & ANIMALS, MeWe
♦ "I love these little critters and my sis-in-law is seeing them in all stages on her ranch in Mathis..come on little dudes, make a comeback." — @Char78613, Gab
♦ "We have a similar lizard here, the Eastern Fence lizard, where I live." — Adam Charles Hovey, OUT BEAUTIFUL WORLD, MeWe
Thanks for looking!
Feel free to share this with your friends.
---
Updated: 10 May 2023