This blog article is about my painting process. How I take an empty canvas to a finished painting.
All of my paintings are composed and painted on commercially pre-primed  stretched canvas. I prefer the type of canvas that wraps all the way around the stretcher bar support. This allows me to carry the painting around the edge of the canvas giving it a more finished look. It also means the painting will not require a frame for display unless one is desired.
Gesso Primed Stretched Canvas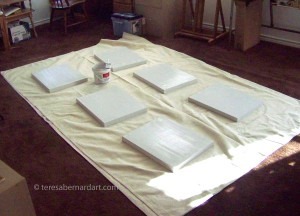 Even though the canvas I use has already been pre-primed by the manufacturer, it's not sufficient. Additional layers of primer need to be applied to provide adequate support for the pigment. Before I can begin a painting, the canvas must be primed and prepared to receive the oil paint. I apply two layers of gesso on the stretched canvas and allow each layer to thoroughly dry between coats. Then the canvas is lightly sanded to smooth out any rough spots. I try to prime as many canvases as I have in my inventory. That way I have a ready supply of primed canvas on hand, ready-to-go, at anytime inspiration strikes and I want to start a new painting.
Click for more information on what to know about gesso. For step-by-step instructions on how to prime a canvas using gesso, check out this article on WikiHow: "How to Prime a Canvas".
Sketching The Image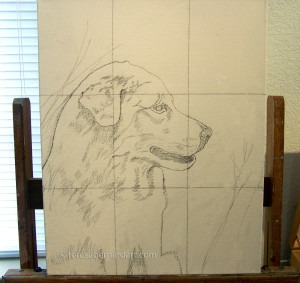 After the canvas has been properly prepared, it is now time to start sketching the image on to the surface of the canvas. Every painting starts out as a simple grid drawn on canvas. This grid serves as an aid in placement of the focal point and other elements where they will best compliment the overall composition. Using a pencil or stick of charcoal, I begin sketching the image that will eventually become the painting. I try to make the sketch as detailed as I can making sure to include the shadow areas too. BTW, I don't usually make my grid lines this dark. It's best to keep them light. I only made them dark so they would show up better for the purposes of this example. I will erase them before the layer of under paint goes on.
The Underpainting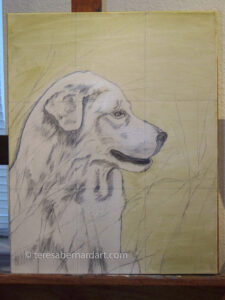 An underpainting is the first layer of paint to go onto the canvas and serves as a base for the additional layers that will follow as the painting is developed. It is an important layer and is made up mostly of medium (a mixture of mineral spirits and linseed oil) and pigment. I use this underpainting layer to get rid of the stark white canvas surface and to begin blocking in color which also helps to define the basic outline of the image. I keep this layer thin making sure not to cover up my sketch lines. That will happen later as I develop the painting as I add more layers of pigment. Once the underpainting layer has dried, I begin laying in oil paint layer upon layer and adding more and more detail as I go until the painting is complete.
Painting In Layers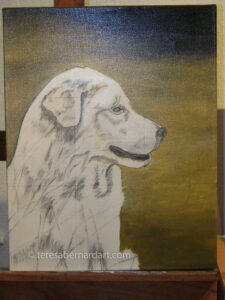 I paint in layers and allow each layer some drying time before applying the next. This takes longer to finish a painting, but this technique allows me to achieve the affect I'm working toward on each of my paintings. Some paintings will have more layers than others depending on the amount of detail that needs to be included in the composition. Allowing each layer to dry also shortens the final drying time required before the coats of varnish are applied.
Applying Varnish
After the painting is completed and has had ample opportunity to thoroughly dry, I will then apply at least two coats of artist grade clear varnish to protect the painting and make the colors pop.
The Finished Painting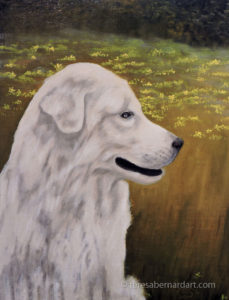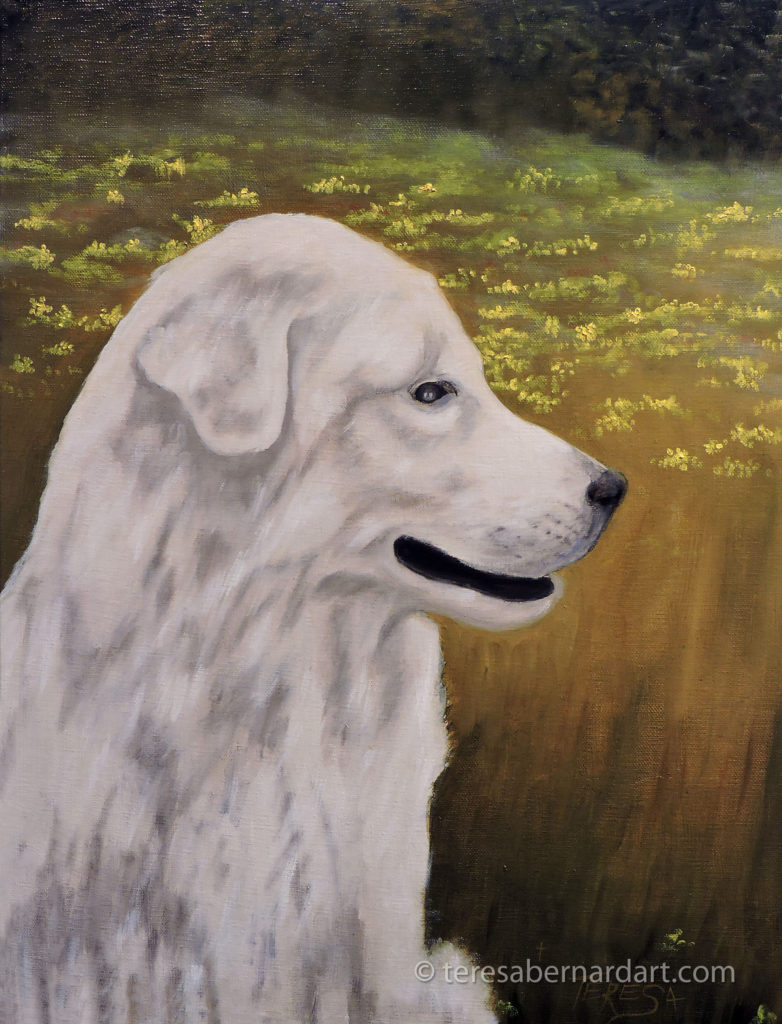 The Large White Dog
Domestic Pet Painting by Teresa Bernard
16″ w x 20″ h
Oils on gallery wrap stretched canvas
Read more about this painting here.
Sneak Peeks
I like to share my recently finished paintings on social media as sneak peak for all my followers before adding them to this website. Follow me on Penterest, Gab or MeWe. Or sign up for my newsletter below to receive announcements of new paintings added to this website.
Have a question?
If you have a question about this painting, please contact us and we'll be happy to answer any of your questions.
Teresa's Insider News
Be the first to know! Sign up here to be among the first to receive sneak peeks of recently completed paintings, new announcements and other updates at the art studio.
Teresa has an insider newsletter and it's FREE! This is her way of keeping her friends up to date by giving you sneak peeks of new paintings she completes, as well as other announcements before they are made public. Her newsletter is published every other month, so be sure to get on her mailing list. You don't want to miss a thing!
Thanks for reading this!
Feel free to share this with your friends.
---
Updated: 12 April 2021