Enjoy this page? Please share it on: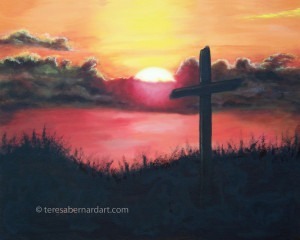 Texas is known for its many beautiful sunsets in the evening sky. Growing up in Texas, I had opportunity of a lifetime of observing many beautiful skies filled with a wide array of shades of orange, yellow, purples and blues. Is it any wonder that I would choose to create sunset oil paintings as part of my repertoire of art? Sunsets are certainly a favorite genre of oil painting for me because of the many bright colors. I also appreciate the fact that the sky at sunset (or sunrise) can be incorporated into many different settings of landscapes, seascapes, and even skyscapes.
I love beautiful sunset oil paintings and I'm not alone. Here's why:
Sunset paintings are a picturesque representation of the evening sky and sun in all its grandeur and splendor. Just the way God intended.
Artists worldwide love to paint sunsets because it gives them opportunities to include vibrant shades of yellow, orange, blue and purple, along with earth colors of dark browns and rich blacks which work together to create warmth and charm within the wall art.
The rays of light that bounce off and peek through the clouds create excitement and drama like no other. They catch the eye of the viewer drawing him/her in.
Sunsets are for romantics and many artists of oil paintings have captured the romance of a setting sun in some of the most exotic places in the world. Sunset paintings in these settings allow the viewer to be whisked away in their imaginations to some faraway places.
Sunset paintings look great in just about any room of your home, office, or place of business.
Additional Reading
Paintings of Sunset Collection
Evening Sky Captured in a Sunset Oil Painting, The
Oil Paintings of Texas Sunsets
Proper Care of Your Sunset Oil Paintings
Paintings of Sunsets by Claude Monet
Thanks for reading this!
Feel free to share this with your friends.
---
Enjoy this page? Please share it on: