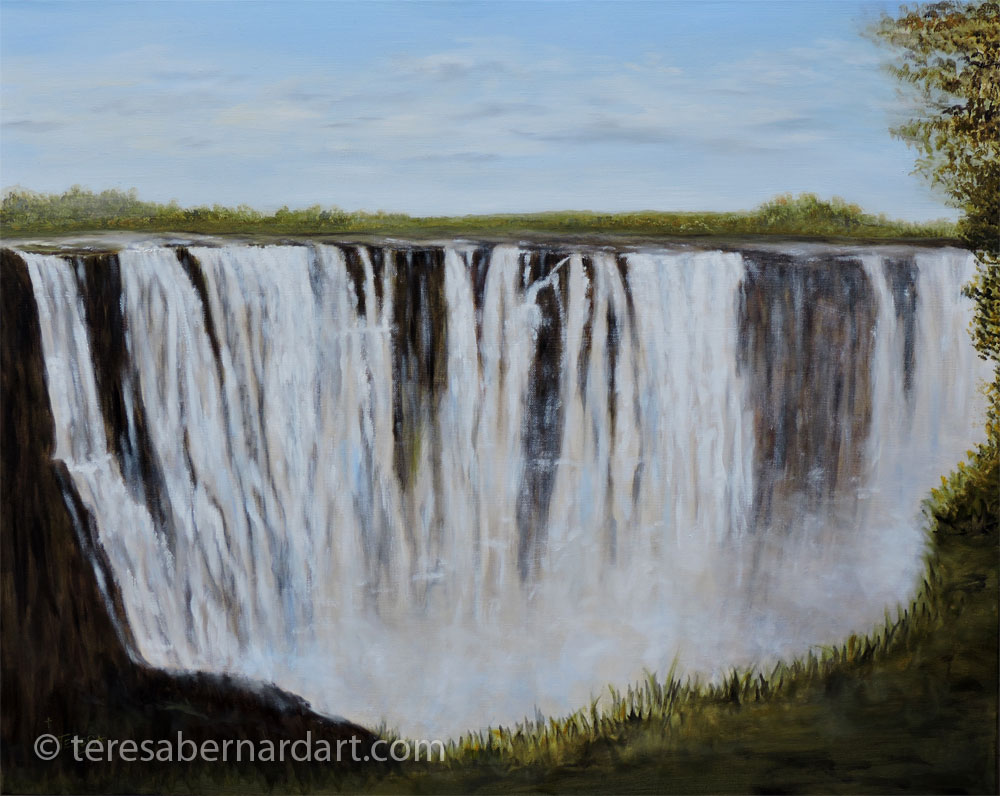 Size: 30″ x 24″
Support: Gallery Wrap Stretched Canvas
Description: A realistic waterfall painting of the famous Victoria Falls, Africa.
SOLD: This painting is a commission and has sold.
Artist Comments
Victoria Falls is the third one in a series of five paintings about Africa that I was commissioned to paint. It resides with others in a private art collection owned by a couple from San Diego, California.
This painting was both fun and challenging to do. Water isn't an easy subject to paint. Yet, looking at this painting, the viewer senses the movement and power of these mighty falls; all that raw power being unleashed as a myriad of gallons of water coming over the falls crashing downward. I feel successful in conveying that message.
Some Interesting Facts About Victoria Falls
Often when I'm commissioned to do a painting for a client, I like to research the subject that the painting is to be. I find out some pretty interesting stuff that way. Here are some interesting things I discovered about Victoria Falls.
Victoria Falls is one of the seven natural wonders of the world and is on the list of UNESCO World Heritage Sites. It is considered the world's largest waterfall. The falls are located in southern Africa on the Zambezi River at the border between Zambia and Zimbabwe. Every year tourists from around the world trek to the falls to experience its magnificence and wonder.
The falls were named after Queen Victoria of Great Britain by a Scottish missionary. However, the local tribes would call the waterfall Mosi-o-Tunya, which translates as "the smoke that thunders" because of its noise and water splashes. The noise Victoria Falls makes can be heard 24 miles away. Spray and mist from the falling water rise to over 1,300 feet high and can be seen from 31 miles away.
Opposite the waterfall is a basalt rock entirely covered with tropical forest. That forest's ecosystem depends on this waterfall.
The functions of the falls are not limited only to being an attraction for millions of tourists; it is also very important economically. For example, this waterfall supplies energy to several cities in Zimbabwe and Zambia.
Other Paintings in This Series
The links below will take you to the other paintings that are part of this commissioned group.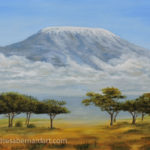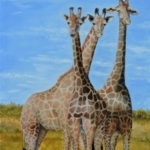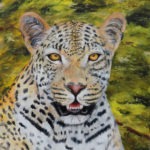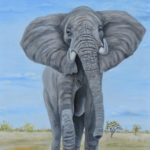 Thanks for looking!
Feel free to share this with your friends.
---
UPDATED: 27 January 2020