If you are an artist and want to paint oil paintings of flowers I have some great tips for you. These tips will help you create great works of art for your walls.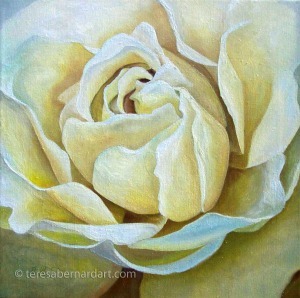 Tip #1: Consider using quality photos as reference material to paint from. They are a great way to create floral art to hang on the walls of your home or office. The flowers captured in your photos will never fade or die like fresh ones will. This will make it possible to get your painting finished at your convenience without having to worry about your flowers wilting or fading away.
Tip #2: Try to work from several photographs to compose your arrangement. These should be of the same flower or groups of flowers. Each photo should be from a different angle as this will make it easier to paint flowers in your arrangement pointing in different directions. Having flowers that point in various directions makes a stronger composition and creates a more interesting painting to look at.
Tip #3: Take a walk through your neighborhood or visit a nearby park where flowers are growing so you can observe them in their natural habitat. Be sure to take your camera with you to take photos of all the flowers that interest you. There is such a variety of flowers out in nature. You will want to notice how they grow up from the soil at different heights, blossom out at various stages from bud to full blossom, face in all directions, etc. Capturing these observations in a photo that you can refer to over and over will prove to be a valuable aid as you paint your floral arrangement.
Tip #4: Before putting paintbrush to canvas, it would be a good idea to sketch out your flower arrangement first using your photographs or resource photos. This preliminary sketch will serve as a guide when you transfer your drawing to canvas. Additionally you may want to even go a step farther and create as detailed and complete drawing as you can. This in itself will become a work of art suitable for framing.
Tip #5: Refer to your photographs often to compare flower shapes and colors. Try to match as closely as you can to the flowers depicted in your photographs. This will make for a more successful oil painting with more realistic looking flowers.
Once your painting is complete you will be able to sit back and enjoy the beauty of nature and at the same time be proud of your accomplishment. Friends and family will be proud of you too and are sure to brag about you to others.
Additional Reading
For more information about using reference photos for your flower oil paintings see the article links below.
Is It Really Okay For Artists To Use Reference Photos? Part 1 — This article talks about what reference photos are and the advantages of using them to paint from.
Is It Really Okay For Artists To Use Reference Photos? Part 2 — In this article we talk about where to find quality resource images to paint from and the copyright issues surrounding their use.
Have a question?
If you have a question about this painting, please contact us and we'll be happy to answer any of your questions.
Teresa's Insider News
Be the first to know! Sign up here to be among the first to receive sneak peeks of recently completed paintings, new announcements and other updates at the art studio.
Teresa has an insider newsletter and it's FREE! This is her way of keeping her friends up to date by giving you sneak peeks of new paintings she completes, as well as other announcements before they are made public. Her newsletter is published every other month, so be sure to get on her mailing list. You don't want to miss a thing!
Thanks for reading this!
Feel free to share this with your friends.
---