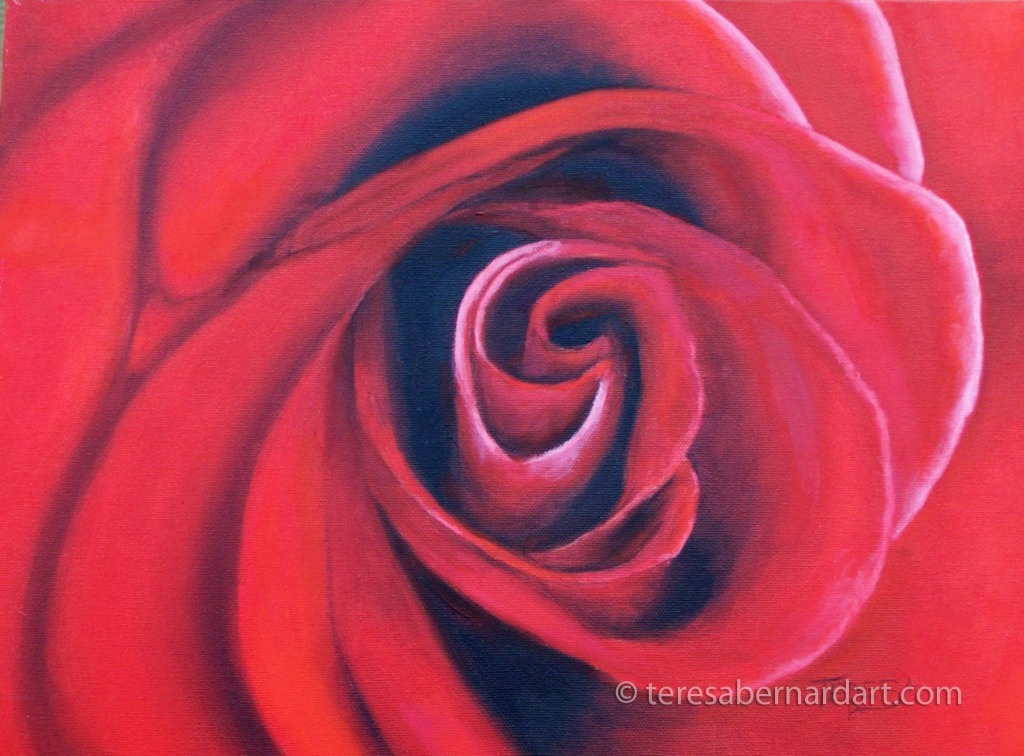 © Copyright 2006 – Present
Size: 16″ x 12″
Support: Stretched canvas
Description: A close-up representation of the center of a bright red  rose.  It is titled "Tyler Rose" because Tyler, TX is the rose capitol of the world. This art composition comes with an official Certificate of Authentication that has been hand signed by the artist.
Sold: This painting has sold to an art collector in Texas. If you love this one and would like a similar painting, please contact us, Teresa does commissions. Be sure to check out "How To Commission A Painting" for more information.
---
Artist Comments: In 2006 my husband Robert retired from the US Navy and we returned home to Texas after being away for over 20 years. Of all the places we could have chosen to live, we decided to settle in the East Texas region. East Texas is a lovely place to call home because of its plush green vegetation, vast rose gardens, Texas Longhorn cattle ranches, hay growers, working farms, rodeos, and the many small country towns and communities. It is in this setting that we chose to build our little ranch approximately 20 miles west of Tyler.
Tyler, Texas is known as the "Rose Capital of the U.S.A." because this area alone produces over 20% of the nation's roses. This city also has the nation's largest municipal rose garden, is home to the Tyler Rose Museum and hosts the Texas Rose Festival every year in October. The festival draws more than 100,000 visitors to the city each year.
Surrounded by all these beautiful roses I was inspired to do this rose painting when we first moved here. I love roses! I love their delicate beauty and fragrant smell. And I especially love red roses. They are so vibrant in color. Roses come in so many different varieties of color and are widely recognized as a symbol of love, sympathy or sorrow depending on the rose's color. For example a red rose is a symbol of love, yellow of friendship, orange of enthusiasm, white of purity and pink of joy.
---