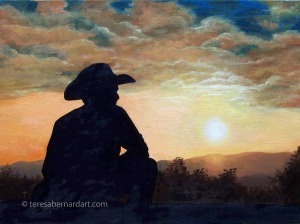 Capturing the beauty of a sunset in  oils is a popular genre of art for many artists. At one time or another most fine artists will choose to create one or sunset oil paintings. There's just something about capturing the sun at its most beautiful moment of the day, right as the sun is going down. It's a breathtaking phenomenon when the sun turns in for the night and twilight sets in, the moment when the sun's rays radiate outward across the sky and horizon giving off vibrant shades of reds, yellows, purples and blues.
Below are some helpful tips to creating stunning sunset oil paintings. When you use the following tips to create your sunset art, you will have more success in your paintings. Note: These tips can also apply to a sunrise painting.
Tip #1: Keep in mind that no two sunsets are ever exactly alike. There are always differences in cloud formations and light effects.
Tip #2: Oils are the best medium for painting a beautiful sunset painting because they blend seamlessly and easily.
Tip #3: As you paint your sunset, think of a flashlight as being behind the clouds and wherever there is an opening a beam of light will shine through.
Tip #4: The rays of sunlight should be painted like a railroad track or road going off in the distance by the use of perspective. This is achieved by using a vanishing point.
Tip #5: When creating your composition, try to choose unusual angles to include in your painting. And remember, because your painting will be back-lit, the water and rocks will have cast shadows.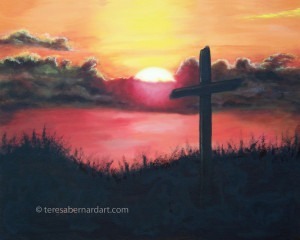 Tip #6: Most sunsets use a variety of shades of orange, yellow, blues and purples, along with sienna and black. Keep your palette with as few colors as you can. Limited palettes are less confusing. Choosing only five to seven colors makes it easier to remember what colors you mixed for a specific part of the painting.
Tip #7: Your color should be most pure and vibrant close up and then is toned down as it reaches the horizon. This creates depth in the painting.
Tip #8: As you are painting a sunset it is important to keep cleaning your brush, this helps to stop your work becoming muddy.
Tip #9: When painting a sunset on the water, the colors present in the sky will be reflected in the water.
Tip #10: The sun should always be painted with pure, brilliant color and then adding darker colors to surround it. Lay in your colors in a circular manner and blend them together.
Tip #11: Start your painting by blocking in large masses of colors, keeping your values simple. Continue until you have a composition that is to your satisfaction.
Tip #12: Next, create the illusion depth in your work by including more detail in the foreground and diminishing detail as the distance increases.
Tip #13: Paint with boldness and do not be overly concerned about adding any detail until your painting is almost finished.
Using these few tips will help you get the most from your painting session.
Additional Reading
Photographing the Setting Sun for Your Sunset Paintings
Paintings of Sunsets Collection
Have a question?
If you have a question about this painting, please contact us and we'll be happy to answer any of your questions.
Teresa's Insider News
Be the first to know! Sign up here to be among the first to receive sneak peeks of recently completed paintings, new announcements and other updates at the art studio.
Teresa has an insider newsletter and it's FREE! This is her way of keeping her friends up to date by giving you sneak peeks of new paintings she completes, as well as other announcements before they are made public. Her newsletter is published every other month, so be sure to get on her mailing list. You don't want to miss a thing!
Thanks for reading this!
Feel free to share this with your friends.
---
UPDATED: 15 March 2021