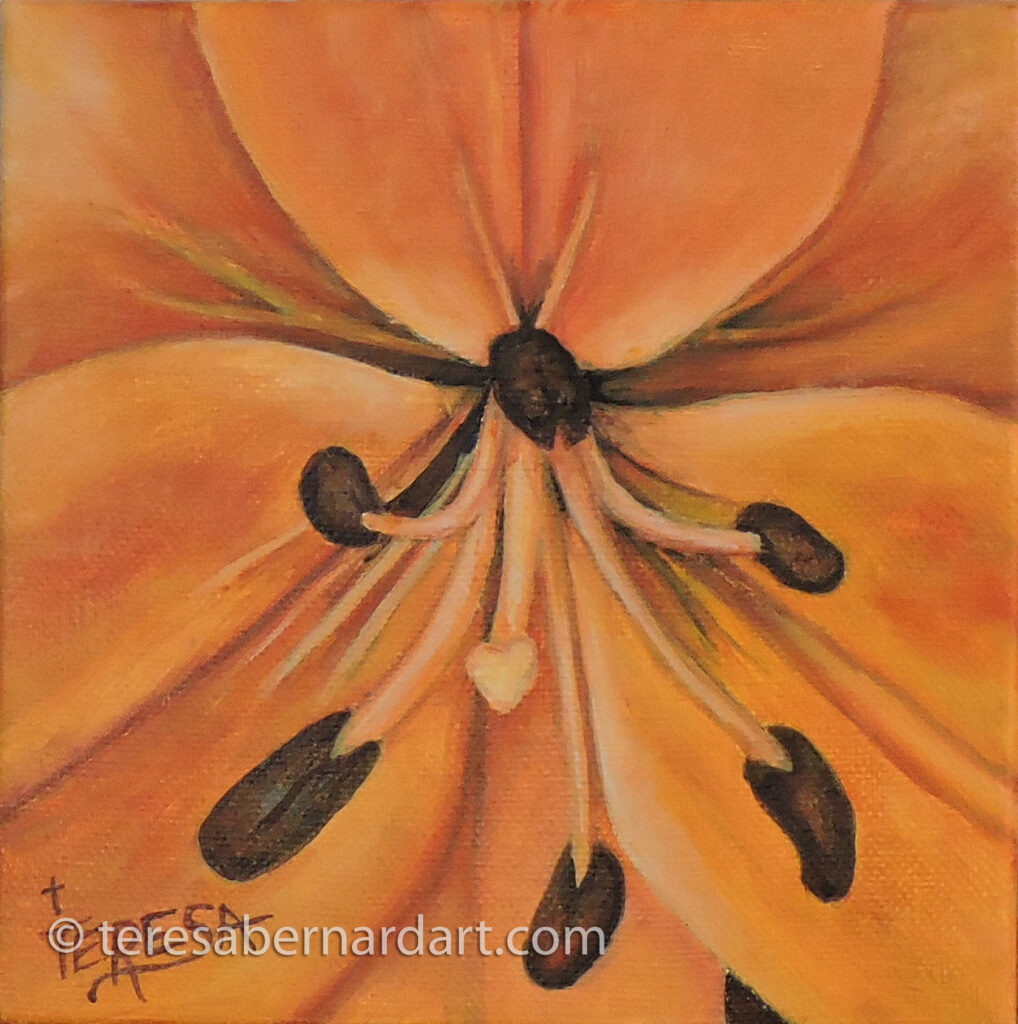 Size: 6″ w x 6″ h
Support: Gallery Wrap Stretched Canvas
Description:  A painting featuring the close-up of an orange tiger lily blossom. The composition zooms in on the center of the blossom. This small painting will not need a frame because the image wraps around the edges of the canvas support. Hand-painted on stretched canvas and signed by visual artist Teresa Bernard. This painting is ready for display as is, or if you prefer it can be framed to give it a more refined look.
SOLD: This painting has been sold to an art buyer in California.
Artist Comments
I bought two dozen small 6″ x 6″ canvases one day simply because they were on sale. Yes, I know impulse buying isn't always good because it can lead to buyer's remorse. However, in this case, it worked out great. I discovered I enjoy doing smaller-sized paintings like this. Now that I had these small canvases, I had to decide what I was going to paint on them. Several ideas came to mind, and flowers were one of them. I realized flowers were a good choice since a single blossom would fit nicely on this size canvas. I've done several mini-sized flower compositions, and this Tiger Lily painting is one. This composition is a close-up looking at the center of the blossom.
Your Feedback
♦ "It's lovely. Technically tho, it's a "small painting" not a miniature. A miniature must be 25 sq. inches or less and 1/6th scale. You should try doing something like that, you paint so well. There are international miniature shows in Baltimore and Florida each year along with others in England, etc." — Carol Michaletz, The Art Gallery, MeWe
Thanks for looking!
Feel free to share this with your friends.
---
UPDATED: 26 June 2022