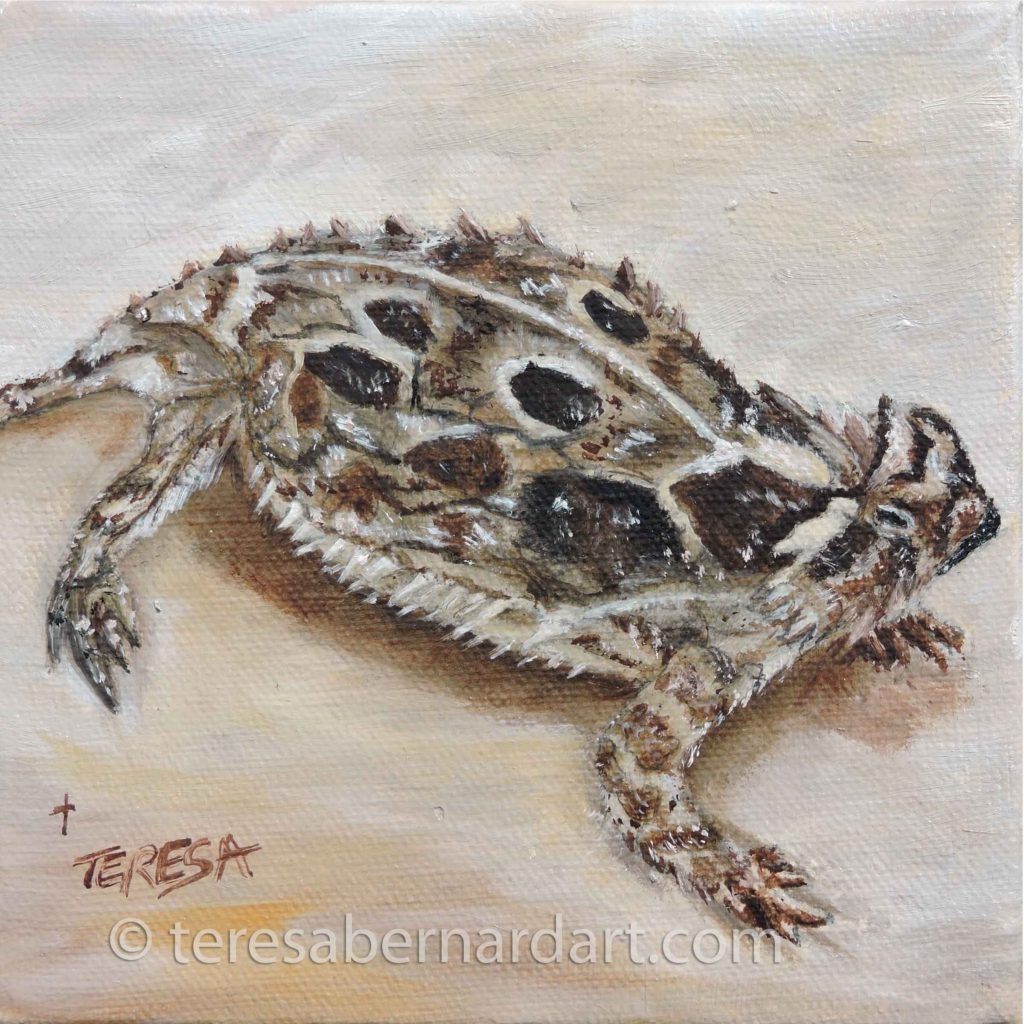 Size: 6″ w x 6″ h
Support: Gallery Wrap Stretched Canvas
Description: Texas wildlife painting of the horned toad lizard, or horny toad as they are often called by native Texans.  The painted image extends around the edges of painting surface thus it will not require a frame before hanging.
Authenticity Certified
This painting comes with an official Certificate of Authenticity. It is your guarantee the artwork you have purchased is a genuine Teresa Bernard Oil Painting.
Purchasing Information
$150
FREE shipping and handling within the U.S.A.
Contact us for international postage and handling.
All transactions are handled via PayPal, a safe and secure way to make your purchase.
Artist Comments
The Texas Horned Lizard, or simply "horny toad" as we called them when I was a kid growing up in west Texas, was a fun painting to do and it brought back lots of fond childhood memories. As children, my friends and I would see these little spiked critters all the time and often played with them for a while, then we would release them. As an adult I noticed they aren't in abundance so much anymore. So I did a little research to find out why. This is what I discovered from my readings.
About 70% of the Texas horned lizard's diet is made up of harvester ants. Through the years their population has declined by about 30%. Although, I'm happy to read, they may be making a comeback. The decline is due to the overuse of pesticides and the spread of nonnative fire ants. Both eradicate harvester ant colonies, destroying the lizard's principal source of food. The Texas horned lizard is now a protected species, and, in Texas, it is illegal to take, possess, transport or sell them without a special permit.
According to Texas Parks & Wildlife magazine, issue August/September 2018, "Texas horned lizards once occurred throughout Texas, but now only a few populations remain. Efforts to move Texas horned lizards from one location in Texas to another, with the hope of establishing new self-sustaining populations in previously occupied habitat, are underway. Several Texas zoos are also working to develop colonies for reintroduction programs. RAWA (Recovering America's Wildlife Act) funding would pay for "lizard factories" to help with reintroduction efforts."
---
Updated: 15 May 2020