Enjoy this page? Please share it on: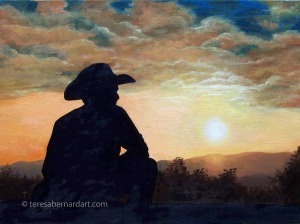 A setting sun is loved most for its warmth, charm and most of all its vibrant colors. Just about everyone loves the view a sun creates while rising or setting in the sky. What a wonderful way for the Creator of all the universe to say "Good morning!" or at the end of a working day to see Him say, "Good evening." There's just something about rays of sunlight bouncing off the clouds creating all those vibrant colors that appeal to us. Is there any wonder why artists from all over the world love to capture the setting sun in all its grandeur and splendor and to forever immortalize a fleeting moment like that in one of their oil paintings? The sun sets quickly and lasts for only a few minutes but the beauty of one can last for a long time when an artist takes it and creates a wonderful work of art on canvas.
The world over artists have captured the setting sun in all its splendor in their paintings of sunset. The colors they use are brilliant yellows, oranges, blues and purples in the sky and along with dark shadows of dark browns, deep blues and rich blacks. Yellows and oranges are warm colors which make up the majority of the sinking suns rays. Blues and purples are cool colors that balance out the warmth. On the ground, the warm browns added with black give the warmth of the earth, while the blues added to the black in the shadows give us that impression of cool. And don't forget the setting sky is always reflected in any body of water.
There is nothing that can substitute for quality wall art in your home, especially when it comes to sunsets on canvas. Oil paintings hanging on the walls in your home or place of business create a welcoming atmosphere for visitors and family members as they view them. Sunset paintings give warmth and charm to a room like no other work of art can. The vibrant colors instantly capture of the eye of anyone who happens to walk by. Sunset oil paintings also make wonderful gifts for a housewarming or grand opening for a business. Not only on those occasions, but for the holidays, birthdays and anniversaries too. Next time you need a great gift idea consider a sunset oil painting rather than a boring ol' house plant.
If you are a collector of fine art, sunset paintings make great additions to your collection. Some famous artists like Claude Monet and Thomas Kinkade, to name a few, have painted some well known paintings of sunsets. Or if you prefer, up-and-coming new artists who are not as well-known also provide great works of sunset art to enjoy. There is simply something for everyone when it comes to enjoying beautiful artworks of the setting sun.
Additional Reading
Oil Paintings of Texas Sunsets
Why I Love Sunset Oil Paintings
Paintings of Sunset Collection
Paintings Of Sunset By Claude Monet
Proper Care Of Your Sunset Oil Paintings
Thanks for reading this!
Feel free to share this with your friends.
---
Enjoy this page? Please share it on: