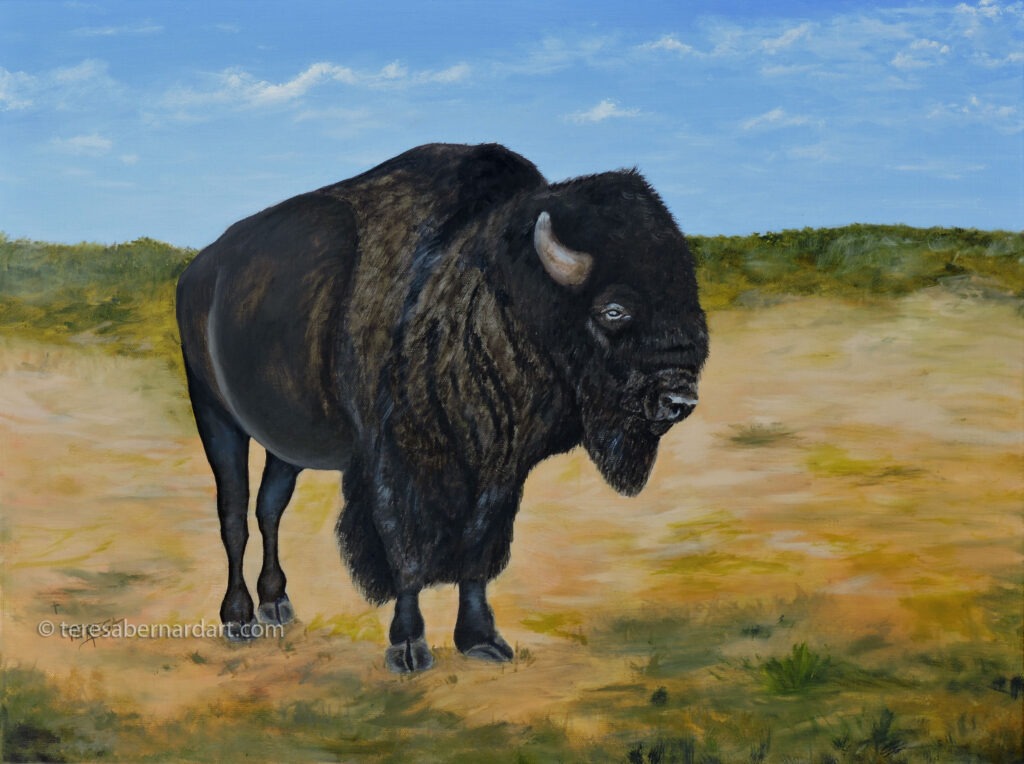 Size: 24″ w x 18″ h
Support: Gallery Wrap Stretched Canvas
Description:  A wildlife painting depicting the American Bison out on the open range. This painting is composed on gallery wrap canvas, which means it does not need a frame because the painted composition extends around the edges of the canvas.
Authenticity Certified
This painting comes with an official Certificate of Authenticity. It is your guarantee the artwork you have purchased is a genuine Teresa Bernard Oil Painting.
Purchasing Information
$470
FREE shipping and handling within the U.S.A.
Contact us for international postage and handling.


All transactions are handled via PayPal, a safe and secure way to make your purchase.
Artist Comments
In the summer of 2016, the same year the American Bison was officially declared America's national mammal, we made a trip to Rapid City, South Dakota on a family vacation. While there we made it a point to visit Custard State Park where several herds of American bison roam freely. We just had to see these magnificent animals up close and we were not disappointed. As we drove through the park, we were privileged to watch a herd of the largest mammal in North American cross the road just a few feet a head of our vehicle. They simply took my breath was taken away. I was so tempted to exit the car and approach them, but that would not have been wise. They are massive wild animals that can become startled and behave aggressively to what they perceive is an approaching predator. Upon entering the park we were told to keep a safe distance and to be conscience of the fact this park is their home and we humans are the visitors, at least from the bison's point of view. To this day bison are a favorite animal of mine and I'm simply amazed by them.
American Bison, Where Are They Today?
In the 1500's there were an estimated 30 to 60 million bison living in North America. Today there are approximately 200,000 in all. They are considered endangered as a wild species and are being protected by the federal government. Bison live in all 50 states, including Native American lands, wildlife refuges, national parks and private lands. The top five states where bison can be found are: South Dakota (where the largest population is), Nebraska, Montana, Colorado, and Oklahoma. The largest herd of bison are in Yellowstone National Park where bison have continuously lived since prehistoric times. What makes Yellowstone's bison herd so special is that they are pure blood descendants of the early bison that grazed on America's grassy plains.
Related post: Devils Tower–Our First National Monument
Have a question?
If you have a question about this painting, please contact us and we'll be happy to answer any of your questions.
Other Paintings Of Interest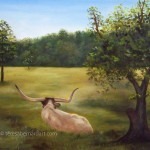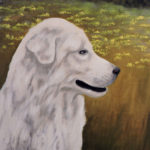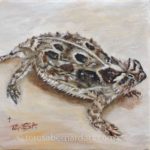 Teresa's Insider News
Be the first to know! Sign up here to be among the first to receive sneak peeks of recently completed paintings, new announcements and other updates at the art studio.
Teresa has an insider newsletter and it's FREE! This is her way of keeping her friends up to date by giving you sneak peeks of new paintings she completes, as well as other announcements before they are made public. Her newsletter is published every other month, so be sure to get on her mailing list. You don't want to miss a thing!
Thanks for looking!
Feel free to share this with your friends.
---
UPDATED: 14 March 2021