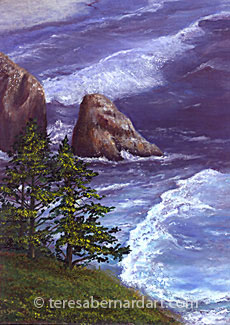 Size: 9″ x 12″
Support: Canvas panel
Description: A depiction of the Oregon coastline looking south from the Sea Lion Caves. This painting is composed on a quality canvas panel and does require a frame before it is displayed.
SOLD: This painting is owned by the artist's daughter and is part of a private collection.
Artist Comments
This ocean wave painting is one of my early paintings, just starting as a professional artist. It shows the Oregon Coast looking south from the "Sea Lion Caves" towards Cox Rock. Cox Rock is one of the thousands of islands that sits off the Oregon Coast. It is nearby Sea Lion Point and Heceta Head.
The Sea Lion Caves is America's largest sea cave and is located midway on Oregon's 400 miles of shoreline. It can reach from the Pacific Coast Scenic Byway U.S. Highway 101. For more information about the Sea Lion Caves, visit their website.
There isn't a lot of information about Cox Rock. I have learned that it is an island off the Oregon Coast and isn't easily accessible if you want to explore it, and it's hard to find. Visitors to the island will probably want to use their GPS to guide them there. Coordinates are below.
This painting is one of my earlier works. Unfortunately, I don't have photos of all my earlier works, but this one I did.  I hope you enjoy it.
Facts About Cox Rock, Oregon
Coordinates: 44.1109544°N, -124.1262313°W
Approx. Elevation: 75 feet (23 meters)
USGS Topo Map Quad: Mercer Lake
Feature Type: Island
Other Paintings of Oregon
I used to live in Oregon and have found it to be one of the most beautiful places on earth to paint. I've painted several paintings of Oregon scenery.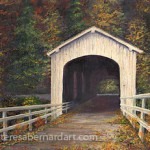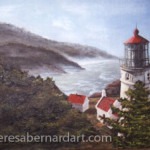 Have a question?
If you have a question about this painting, please contact us, and we'll be happy to answer any of your questions.
Teresa's Insider News
Be the first to know! Sign up here to be among the first to receive sneak peeks of recently completed paintings, new announcements, and other updates at the art studio.
Teresa has an insider newsletter, and it's FREE! This is her way of keeping her friends up to date by giving you sneak peeks of new paintings she completes, as well as other announcements before they are made public. Her newsletter is published every other month, so be sure to get on her mailing list. You don't want to miss a thing!
Your Feedback
♦ "I've been particularly interested in seeing the sites of realistic oil painters. I've been painting and teaching since the mid-'70s. Your work is lovely. One of my favorite paintings is the Heceta Head Lighthouse. The Oregon Coast is one of my favorite subjects too!" — Donna S., Washington
♦ "Often when I have my morning coffee I will search the net for artists. I oil paint. I was in Oregon last summer, your pictures of the Oregon coast by the sea lions is the best I have seen of that view. Your Heceta Head Lighthouse is just beautiful. I painted the coast picture also. You are an inspiration to me." — Patricia B., Pontiac MI
Thanks for looking!
Feel free to share this with your friends.
---