A painting of an old weathered barn with a bright yellow moon overhead. This composition is full of intriguing contrasts.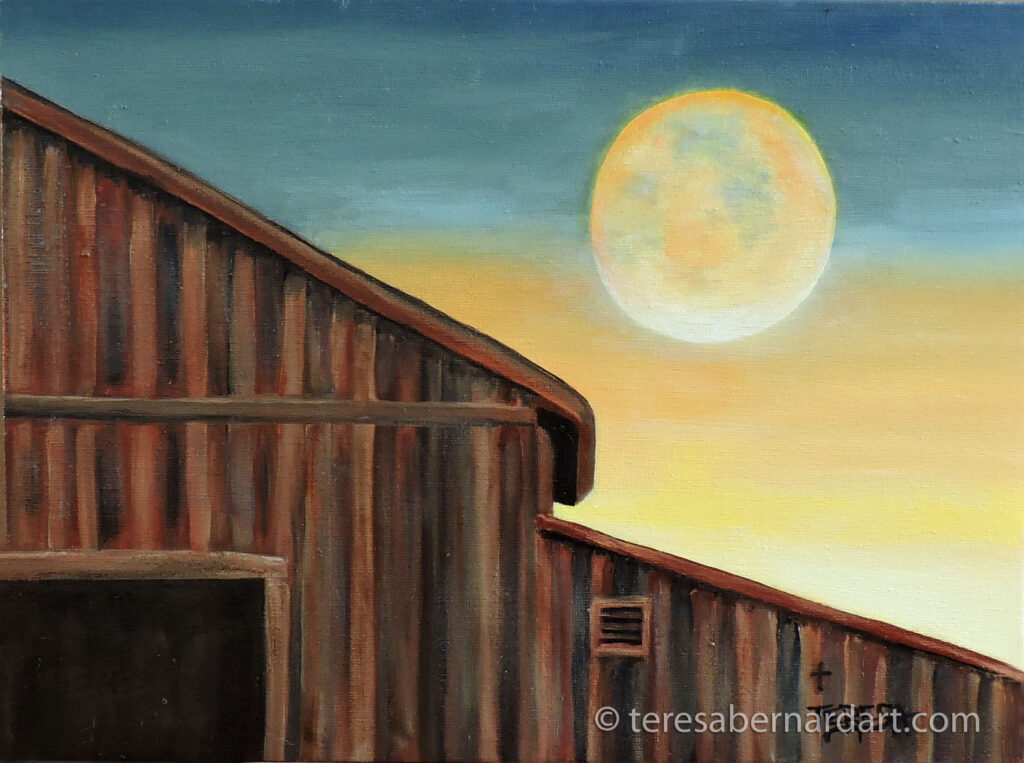 $180
FREE shipping and handling within the U.S.A.
Contact us for international postage and handling.
All transactions are via PayPal, a safe and secure way to make your purchase.
About this Barn Painting
Title: The Broadside of a Barn
Size: 12″ w x 9″ h
Support: Canvas Panel Board
Description:  This painting has a tightly cropped view of the broadside of an old barn. The planks of the barn are aged and weathered. A bright yellow Harvest Moon shines overhead. This painting is signed by fine artist Teresa Bernard.
The Broadside of a Barn is artwork hand-painted on a quality canvas panel board and will need to be mounted in a frame before it is put on display.

This painting comes with an official Certificate of Authenticity. More information here.
Artist Comments
I'm a sucker for old country barns. They have a certain charm that appeals to me, especially when they're old and weathered.  And when the composition allows, I love to include them in my landscape paintings.
The Broadside of a Barn is a country landscape painting. To create an interesting effect, I painted this composition with a tight crop. The crop gave the impression that the painting had been cut in half from corner to corner at an angle, forming two opposing triangles. The top triangle has organic shapes, while the bottom half is made up of manmade shapes.
This painting appeals to me because of the many contrasts present within its composition. For example, near vs. far, organic vs. manufactured, curved vs. straight, round vs. square, dark vs. light, etc. Can you find other contrasts?
Have a question?
If you have a question about this painting, please contact us, and we'll be happy to answer any of your questions.
Other Barn Paintings of Interest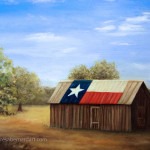 Teresa's Insider News
Teresa has an insider newsletter, and it's FREE!  Be the first to know! Sign up below to receive sneak peeks of recently completed paintings, new announcements, and other updates at the art studio.
Thanks for looking!
Feel free to share this with your friends.
---
UPDATED: 20 July 2022