Size: 14″ w x 11″ h
Support: Traditional-style Stretched Canvas
Description:  A still life painting featuring a bedside table with fruit and candle. It features an assortment of fruit consisting of grapes, pears, an apple, and a plum sitting in front of a rustic candle on top of a wood planked table. A metal goblet sits near the edge of the table. In the background is red drapery and pillow which complete the composition. All of these elements help to give this painting a European look and feel. It is signed by artist Teresa Bernard.
Still Life with Fruit and Candle is hand-painted on a traditional-style stretched canvas. This painting with its unpainted sides requires a frame to give it that finished look for exhibition in your home or office.
Artist Comments
An artist's inspiration can come from many places. A bedside table with an interesting table setting of fruit, an old candle, and a metal goblet was the inspiration for this still life painting.
Purchasing Information
NEW LOWER PRICE!
$150
was $300
FREE shipping and handling within the U.S.A.
Contact us for international postage and handling.
By purchasing your painting from this site, you are buying directly from Teresa Bernard. All transactions are via PayPal, a safe and secure way to make your purchase.
Authenticity Certified
This painting comes with an official Certificate of Authenticity. It is your guarantee the artwork you have purchased is a genuine Teresa Bernard Oil Painting.
Have a question?
If you have a question about this painting, please contact us, and we'll be happy to answer any of your questions.
Other Paintings Of Interest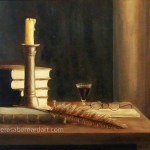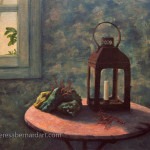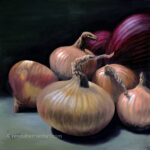 Teresa's Insider News
Teresa has an insider newsletter, and it's FREE!  Be the first to know! Sign up below to receive sneak peeks of recently completed paintings, new announcements, and other updates at the art studio.
Your Feedback
♦ "Your paintings will one day hang in a very expensive gallery, unfortunately, you won't be around, which is why they'll be selling for such high prices. Think Bob Ross." — BananaRepublic2021, Rural Life, Gab
♦ "Excellent! Colors and depth are outstanding." — DP1224, Rural Life, Gab
Thanks for looking!
Feel free to share this with your friends.
---