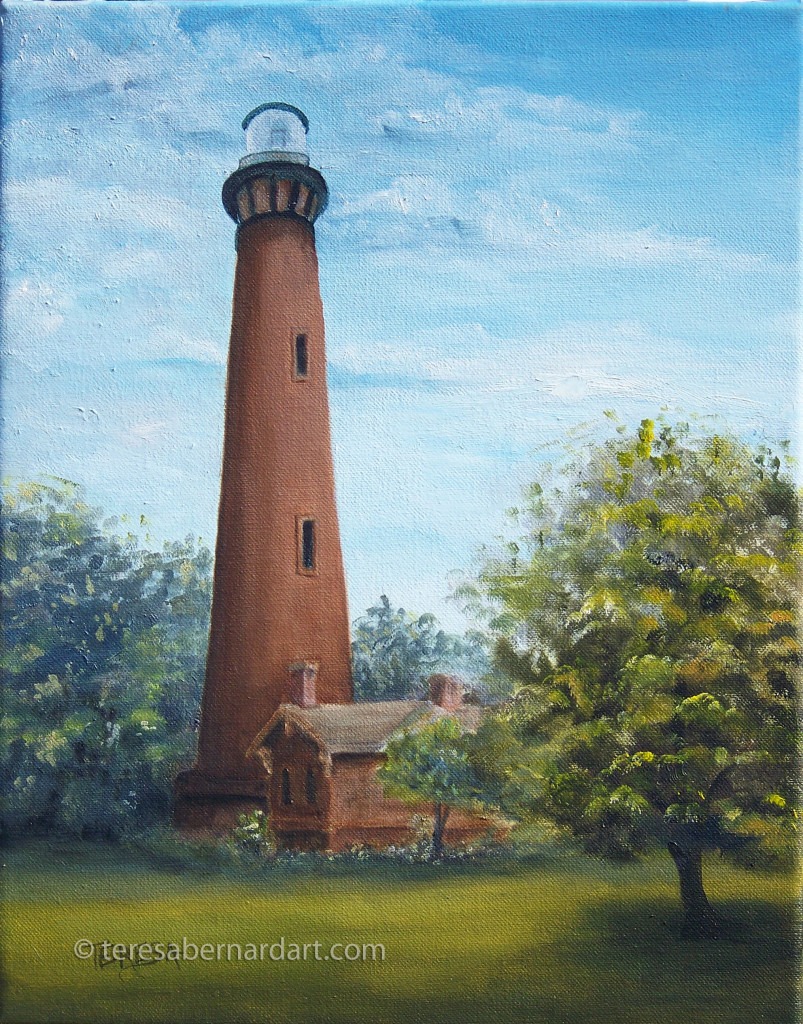 Size: 11″ w x 14″ h
Support: Stretched canvas
Description: A marine landscape representation of the Currituck Beach Lighthouse located in the outer banks on the eastern shores of America. This painting will need to be framed before it is displayed.
Authenticity Certified
This painting comes with an official Certificate of Authenticity. It is your guarantee the artwork you have purchased is a genuine Teresa Bernard Oil Painting.
Purchasing Information
$300
FREE shipping and handling within the U.S.A.
Contact us for international postage and handling.

All transactions are handled via PayPal, a safe and secure way to make your purchase.
Artist Comments
Currituck Beach Lighthouse is located at Whale Head Bay in Corolla, North Carolina on the northern end of the "Outer Banks". Its distinct unpainted natural red brick appearance is in stark contrast with fellow lighthouses along the North Carolina coast which are painted in striking black and white. Built in 1875, it is still used today to light the dark stretches of the southern Atlantic coastline. Annually the lighthouse welcomes an average of 185,000 visitors and we were among them.
One summer my husband, Robert and I loaded up the kids and headed off for an adventure on the Outer Banks to discover the lighthouses we'd heard so much about. We lived in Virginia at the time while Robert was serving in the military, and was only two hours away from the OBX (Outer Banks). Currituck Lighthouse was our first stop and the favorite of all the lighthouses we visited that fun filled weekend. We were excited to discover that visitors can climb its 220 steps to the top and look at the spectacular view. We've been back to this lighthouse several times since that first trip and we always enjoy seeing this it over and over again.
Some Interesting Facts About Currituck Beach Lighthouse
Year beacon first lit: 1875
Number of steps: 220
Height to focal plane of lens: 158 feet
Height to top of roof: 162 feet
Number of bricks: approximately one million
Thickness of wall at base: 5 feet 8 inches
Thickness of wall at parapet: 3 feet
Position: 34 miles south of the Cape Henry Lighthouse (VA)
32 1/2 miles north-northwest of Bodie Island Lighthouse
Coast Survey Chart: 36° 22'36" N latitude, 75° 49'51" W longitude
Find out more about Currituck Beach Lighthouse.
For more information about the Outer Banks of North Carolina, visit their website.
Have a question?
If you have a question about this painting, please contact us and we'll be happy to answer any of your questions.
Other Paintings Of Interest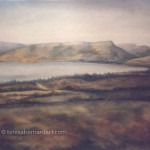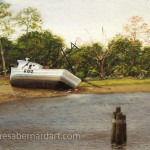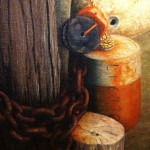 Teresa's Insider News
Be the first to know! Sign up here to be among the first to receive sneak peeks of recently completed paintings, new announcements and other updates at the art studio.
Teresa has an insider newsletter and it's FREE! This is her way of keeping her friends up to date by giving you sneak peeks of new paintings she completes, as well as other announcements before they are made public. Her newsletter is published every other month, so be sure to get on her mailing list. You don't want to miss a thing!
Thanks for looking!
Feel free to share this with your friends.
---
UPDATED: 14 March 2021