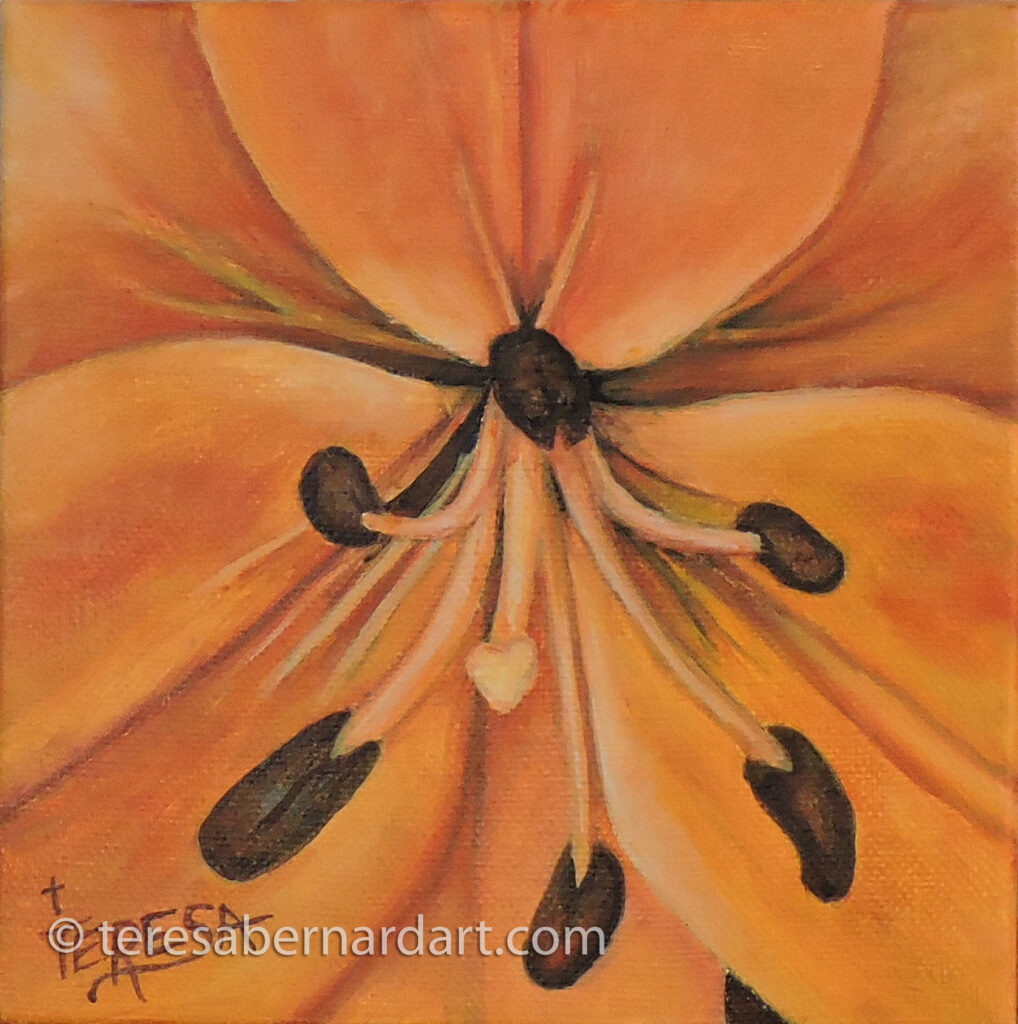 Size: 6″ w x 6″ h
Support: Gallery Wrap Stretched Canvas
Description:  A painting featuring the close-up of a tiger lily blossom. This small painting will not need a frame because the image wraps around the edges of the canvas support. Hand-painted and signed by fine artist Teresa Bernard.
SOLD: This painting has been sold to an art buyer in California.
Artist Comments
I bought two dozen small 6″ x 6″ canvases one day simply because they were on sale. Yes, I know impulse buying isn't always good because it can lead to buyer's remorse. However, in this case, it worked out great. I discovered I enjoy doing smaller-sized paintings like this. The next thing I had to decide was what am I going to paint on them. Several ideas came to mind, and flowers were one of them. I realized flowers were a good choice since a single blossom would fit nicely on this size canvas. I've done several mini-sized flower compositions, and this Tiger Lily painting is one. This composition is a close-up looking at the center of the blossom.
Have a question?
If you have a question about this painting, please contact us, and we'll be happy to answer any of your questions.
Teresa's Insider News
Be the first to know! Sign up here to be among the first to receive sneak peeks of recently completed paintings, new announcements, and other updates at the art studio.
Teresa has an insider newsletter, and it's FREE! This is her way of keeping her friends up to date by giving you sneak peeks of new paintings she completes, as well as other announcements before they are made public. Her newsletter is published every other month, so be sure to get on her mailing list. You don't want to miss a thing!
Your Feedback
♦ "It's lovely. Technically tho, it's a "small painting" not a miniature. A miniature must be 25 sq. inches or less and 1/6th scale. You should try doing something like that, you paint so well. There are international miniature shows in Baltimore and Florida each year along with others in England, etc." — Carol Michaletz, The Art Gallery, MeWe
Thanks for looking!
Feel free to share this with your friends.
---
UPDATED: 18 December 2021