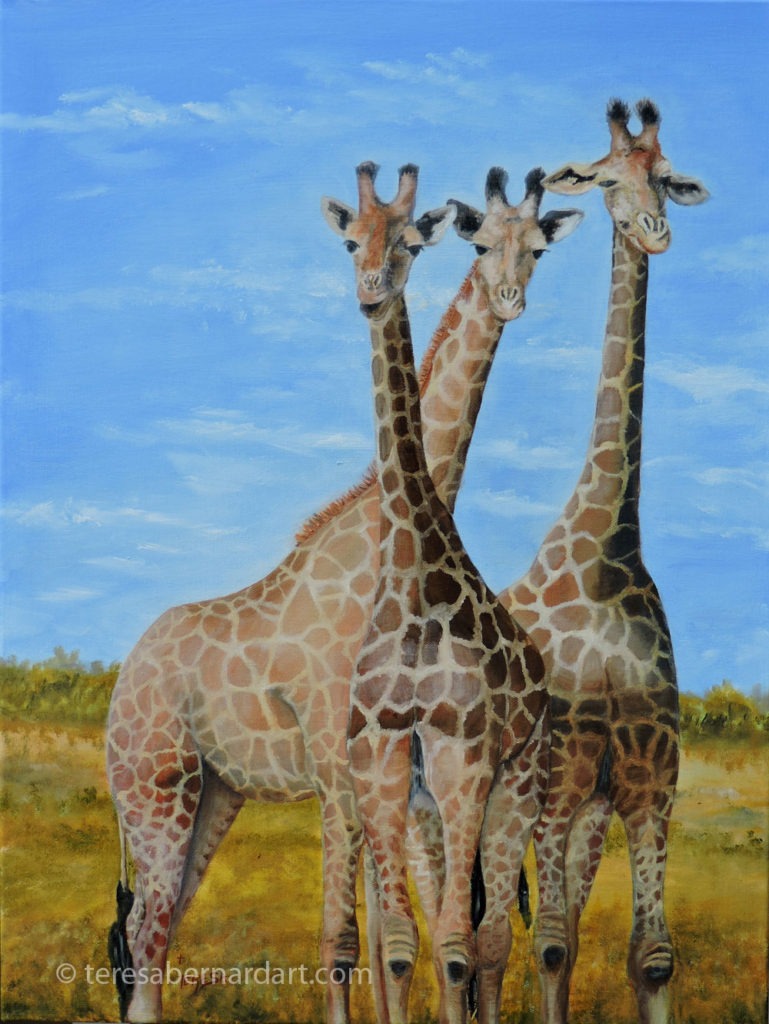 © Copyright 2019 – Present
Size: 18″ w x 24″ h
Support: Gallery Wrap Stretched Canvas
Description: A realistic composition of three wild African giraffes on the open planes of the Serengeti.
SOLD: This painting was commissioned work and has sold, however, if you desire a something similar, Teresa Bernard does commissions.  Click on the link for more information.
Customer Feedback
Hi Teresa, we received the paintings. They're beautiful! Thank you very much. Our eldest will love the giraffes. — G. Callan, San Diego CA
Artist Comments
This painting was a commission painting I was asked to paint for an art collector.  My customer wanted to present it to his adult daughter as a Christmas gift. I found this painting to be a challenging one as I had never painted giraffes before. I put a lot of thought into how to approach it before putting paintbrush to canvas. It required studying giraffes from all different angles paying special attention to their spots. (If you want to call them spots, that is. They are more like splotches.) I observed that no two giraffes are identical in their "spots". Nevertheless when the painting was completed and shipped to his residence, my customer contacted me to let me know his daughter loved it.
Other Paintings in This Series
This work of art is one of five Africa themed paintings I was commissioned by this particular art collector. The links below will take you to the other paintings that are part of this commissioned group.
Other paintings of Africa that I've created are found in my blog article called Adventures In Africa Collection.
Art Commissions
Not Finding What You Are Looking For?
Teresa is a renown commission artist and has created works of art for fellow art lovers and enthusiasts all over the world. If you have a special painting in mind, she would love to paint it for you. Follow this link to find out how to commission a painting of your own. Or contact us for more information.
Thanks for looking!
Feel free to share this with your friends.
---
UPDATED: 28 January 2020