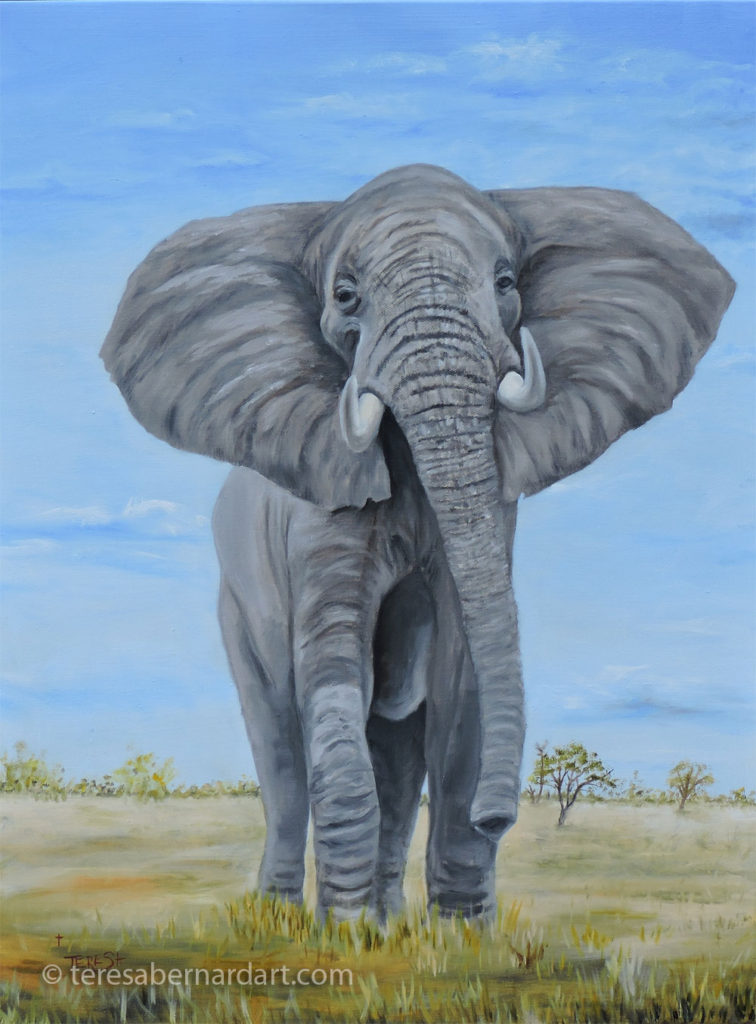 Size: 18″ x 24″
Support: Gallery Wrap Stretched Canvas
Description: This realistic style painting depicts an African bull elephant on the Serengeti, a wildlife preserve and safari destination.
SOLD: This painting is a commission and has sold. Teresa Bernard also does art commissions. If you desire a similar painting to this one, click the link above for more information.
Customer Feedback
Teresa, our favorite elephant just arrived. My wife and I absolutely love it. So much more special in person. Fantastic! We can hardly wait to see the next two. Thanks again. — G. Callan, San Diego CA
Fine Art Prints
Prints of this painting can be purchased in my store at Fine Art America.
Artist Comments
This painting is the first one of five commission paintings I painted for a client who lives in San Diego, California. He first contacted me about another elephant painting that I had painted several years back called Raging African Elephant. Since that one had already sold, he commissioned me to do the one above. While I was working on this painting, this same client commissioned more paintings of Africa.
Other Paintings in This Series
The links below will take you to the other paintings that are part of this commissioned group.
Other paintings of Africa that I've created are found in my blog article called Adventures In Africa Collection.
Some Interesting Facts About African Elephants
The word "elephant" comes from the Greek word "elephas" meaning "ivory".
Elephants are the largest of all land animals and have an average life span of 50 to 70 years. There are only two distinct types of elephants — African and Asian. Of these two varieties, African elephants are the largest. The African variety have larger ears than their Asian cousin. Their ears look like the African continent and are used to radiate heat away from their body. Asian elephant ears are smaller and rounded.
African elephants prefer to stay in herds of 12 to 20 and the majority of them live on the Savannah. Both the male and female African elephants grow tusks. They can grow to more than 12 feet tall and weigh up to about 7 tons (14,000 pounds).
Males are called bulls, females are cows, and a baby is called a calf. When a calf is born, it can weigh 200 pounds and stand 3 feet tall. Gestation is about 22 months. The females are extremely social and take very good care of their offspring.
Art Commissions
Not Finding What You Are Looking For?
Teresa creates works of art for fellow art lovers all over the world. Follow this link to find out how to commission a painting of your own. Or contact us for more information.
Have a question?
If you have a question about this painting, please contact us and we'll be happy to answer any of your questions.
Teresa's Insider News
Be the first to know! Sign up here to be among the first to receive sneak peeks of recently completed paintings, new announcements and other updates at the art studio.
Teresa has an insider newsletter and it's FREE! This is her way of keeping her friends up to date by giving you sneak peeks of new paintings she completes, as well as other announcements before they are made public. Her newsletter is published every other month, so be sure to get on her mailing list. You don't want to miss a thing!
Thanks for looking!
Feel free to share this with your friends.
---
UPDATED: 27 January 2020