Test your knowledge of art history by naming these famous paintings. Take this simple 25 question test by writing your answers on paper, then check your answers at the end of the quiz. Don't peek!
What is the name of each famous painting pictured below?
1.  __________ (1503 – 1506) by Leonardo da Vinci
A. Portrait of Lisa Gherardini
B. Mona Lisa
C. Ma Donna
D. My Lady
2.  __________ (1511–1512) by Michelangelo
A. The Creation of Adam
B. God Reaches Out
C. Genesis of Man
D. The Touch of God
3.  __________ (1665) by Johannes Vermeer
A. Girl with a Blue Headscarf
B. Girl with an Exotic Dress
C. Girl with a Pearl Earring
D. Girl with an Oriental Turban
4.  __________ (1893) by Edvard Munch
A. The Ghost
B. The Tormented
C. The Traveler
D. The Scream
5.  __________ (1931) by Salvador Dali
A. Time Keeps Slipping
B. The Persistence of Memory
C. The Soft Watches
D. The Melting Watches
6.  __________ (1876) by Pierre-Auguste Renoir
A. Dance at the Moulin De La Galette
B. Dance in the Country
C. Dance at Bougival
D. Luncheon of the Boating Party
7.  __________ (1888) by Vincent van Gogh
A. Roses and Sunflowers
B. Paris Sunflowers
C. Nothing But Sunflowers
D. Sunflowers
8.  __________ (1888-1889) by Claude Monet
A. Grainstacks at Giverny, Sunset
B. Haystacks as Sunset
C. The Harvest
D. Haystacks in a Field
9.  __________ (1871) by Edgar Degas
A. Dance Recital
B. Ballet Rehearsal
C. Dance Class
D. Fin d'Arabesque, with Ballerina
10.  __________ (1495-1498) by Leonardo da Vinci
A. Jesus and the Twelve Disciples
B. The Last Passover
C. The Final Communion
D. The Last Supper
11.  __________ (1873) by Claude Monet
A. Summer Days
B. Poppy Field
C. Country Stroll
D. A Walk in the Park
12.  __________ (1936) by American artist Georgia O'Keeffe
A. Jimson Weed/White Flower No. 1
B. Portrait of a White Flower
C. No. 13 – Special
D. White Blossom – Special
13.  __________ (1875) by Pierre-Auguste Renoir
A. Self Portrait
B. Portrait of Vincent van Gogh
C. Portrait of Claude Monet
D. Portrait of Paul Cézanne
14.  __________ (1889) by Vincent van Gogh
A. Self Portrait
B. Portrait of Claude Monet
C. Portrait of Pierre-Auguste Renoir
D. Portrait of Paul Cézanne
15.  __________ (1882) by Claude Monet
A. City on a Hill
B. Impression Sunrise
C. Cliffs of Dover
D. The Church at Varengeville, Against the Sunset
16.  __________ (1898) by Henri Matisse
A. Vase of Sunflowers
B. Vase with Flowers
C. Still Life with Yellow Flowers
D. Yellow Blossoms
17.  __________ (1889) by Eilif Peterssen
A. The Fisherman
B. Summer Evening
C. Laksefiskeren, The Salmon Fisher
D. Canal Grande
18.  __________ (1874) by Edgar Degas
A. The Rehearsal
B. Ballet Dancers on Stage
C. The Dance Class (La Classe de Danse)
D. Ballet Rehearsal on Stage
19.  __________ (c. 1907) by Henri Rousseau
A. The Hungry Lion
B. The Repast of the Lion
C. The Jungle
D. King of the Jungle
20.  __________ (1803) by J.M.W. Turner
A. The Jetty of Calais
B. Battle of the Kearsarge and the Alabama
C. Ships at Le Havre
D. The Storm on the Sea of Galilee
21.  __________ (1770) by Benjamin West
A. Battle of the Plains of Abraham
B. The Seven Years' War
C. Battle of Quebec
D. The Death of General Wolfe
22.  __________ (1820) by John Lewis Krimmel
A. Merry Company
B. Country Wedding
C. The Marriage of Krimmel's Daughter
D. The White Dress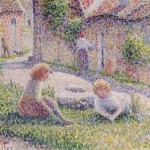 23.  __________ (1887) by Camille Pissarro
A. Children at Play
B. Two Young Peasant Girls
C. Children on a Farm
D. Kids in a Courtyard
24.  __________ (1912) by František Kupka
A. Amorpha, Fugue en deux couleurs (Fugue in Two Colors)
B. Untitled (First Abstract Watercolor)
C. Dances at the Spring
D. The Procession
25.  __________ (1912) by Robert Delaunay
A. Formes Circulaires
B. Soleil n°2
C. Colored Rhythm
D. Windows Open Simultaneously
How did you do on the "Famous Paintings from History" quiz? Check your answers below to find out.
More Quizzes to Test Your Knowledge of the Fine Arts
Can You Name These Famous Paintings From History? — You are here.
Do You Know The Definition Of These Art Terms?   
Test Your Knowledge of Art Appreciation
Test Your Knowledge of COLOR Theory
Test Your Knowledge of Fine Art: Elements and Principles of Design
Test Your Knowledge of Fine Art: Painting
Have a question?
If you have a question about this painting, please contact us, and we'll be happy to answer any of your questions.
Thanks for taking this quiz!
Feel free to share this with your friends.
---
Answers: 1B, 2A, 3C, 4D, 5B, 6A, 7D, 8A, 9C, 10D, 11B, 12A, 13C, 14A, 15D, 16A, 17C, 18D, 19B, 20A, 21D, 22B, 23C, 24A, 25D
UPDATED: 07 October 2021