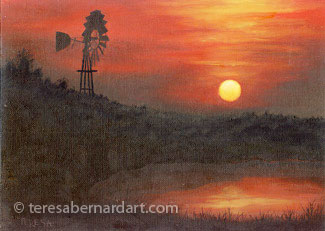 Size: 12″ x 9″
Support: Canvas panel board
Description: A painting of a vibrant Austin, Texas sunset featuring a windmill in silhouette overlooking a pond. This painting is composed on a quality canvas panel board and does require a frame before it is displayed.
SOLD: This sunset painting was sold to a private art collector living in Texas.
Artist Comments
This painting is one of my earlier paintings and unfortunately, I don't have a better photo of it. It is so much more beautiful in person! I composed it using a reference photo taken by my brother-in-law who photographed the scenery that inspired this vivid Texas sunset painting. The photo was taken near Austin, TX where he lives with his wife.
Texas is known for having some of the loveliest sunsets in America. As a native of Texas, I can attest to that myself. I enjoy painting Texas sunsets for so many reasons, but mostly I love the rich, vibrant colors present in them!
Have a question?
If you have a question about this painting, please contact us, and we'll be happy to answer any of your questions.
Teresa's Insider News
Be the first to know! Sign up here to be among the first to receive sneak peeks of recently completed paintings, new announcements, and other updates at the art studio.
Teresa has an insider newsletter, and it's FREE! This is her way of keeping her friends up to date by giving you sneak peeks of new paintings she completes, as well as other announcements before they are made public. Her newsletter is published every other month, so be sure to get on her mailing list. You don't want to miss a thing!
Thanks for looking!
Feel free to share this with your friends.
---