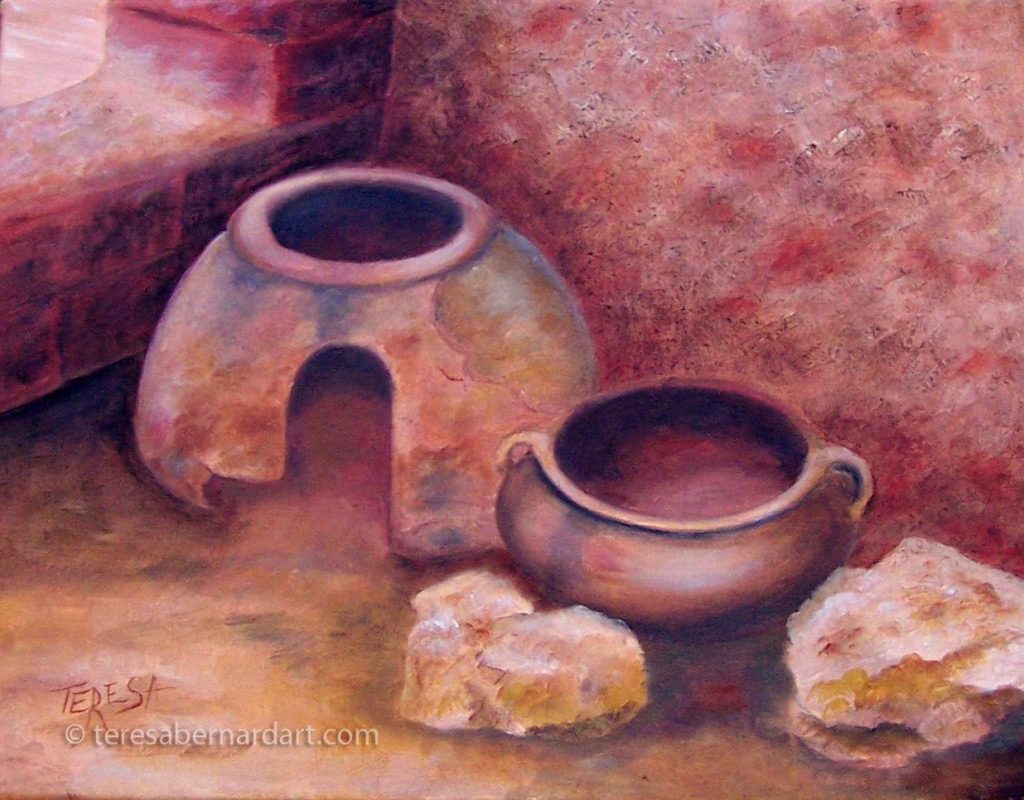 Size: 14″ w x 11″ h
Support: Stretched canvas
Description: A still life painting featuring clay pottery, everyday items common in the Iron Age. It will need framing before displaying. Hand-painted and signed by fine artist Teresa Bernard.
See Artist Comments below for additional information regarding this painting.
Authenticity Certified
This painting comes with an official Certificate of Authenticity. It is your guarantee the artwork you have purchased is a genuine Teresa Bernard Oil Painting.
Purchasing Information
HALF OFF SALE!
$150
was $300
FREE shipping and handling within the U.S.A.
Contact us for international postage and handling.
By purchasing your painting from this site, you are buying directly from Teresa Bernard. All transactions are via PayPal, a safe and secure way to make your purchase.
Artist Comments
This clay pottery painting features everyday household items that would have been found in a typical kitchen in Israel or Jordan during the Iron Age (1200-586 B.C.). While visiting the "Holy Land Photos" website, I came across some interesting photos of a reconstructed Israelite House on display at the Haaretz Museum in north Tel Aviv. This painting is from one of those photos.
Note: Permission to use the photo as a painting source is courtesy of Holy Land Photos.
Have a question?
If you have a question about this painting, please contact us, and we'll be happy to answer any of your questions.
Other Paintings Of Interest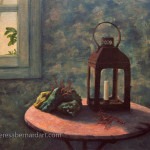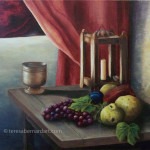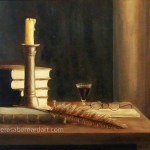 Teresa's Insider News
Be the first to know! Sign up here to be among the first to receive sneak peeks of recently completed paintings, new announcements, and other updates at the art studio.
Teresa has an insider newsletter, and it's FREE! This is her way of keeping her friends up to date by giving you sneak peeks of new paintings she completes, as well as other announcements before they are made public. Her newsletter is published every other month, so be sure to get on her mailing list. You don't want to miss a thing!
Thanks for looking!
Feel free to share this with your friends.
---