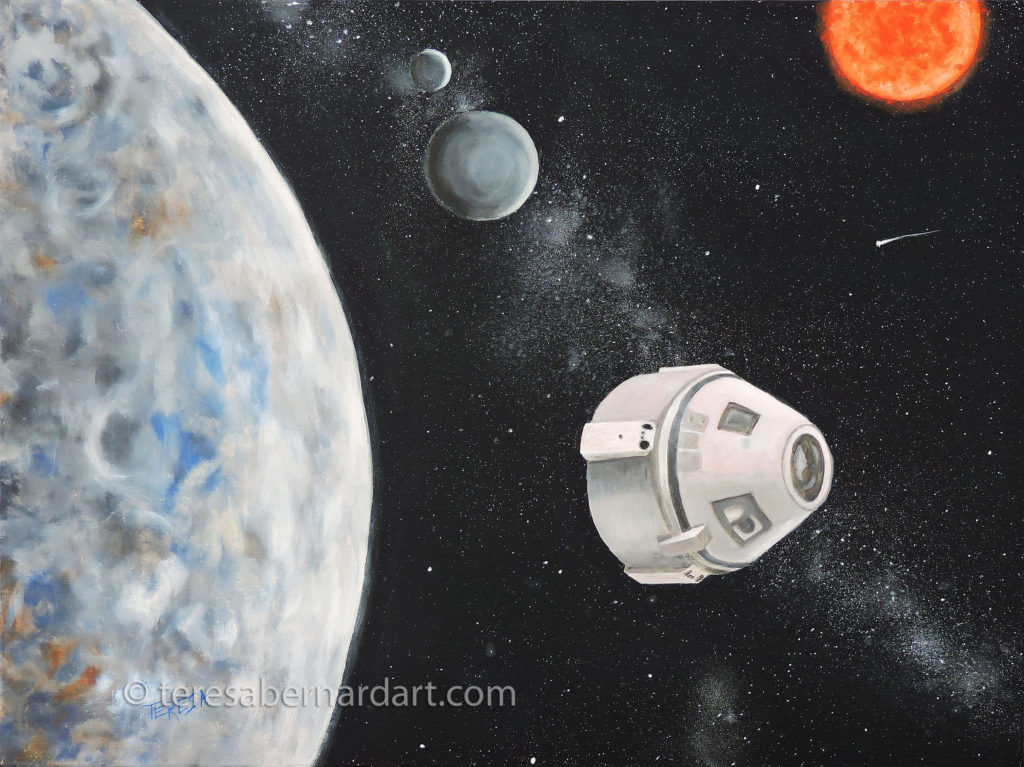 Size: 24″ w x 18″ h
Support: Gallery wrap stretched canvas
Description: An original painting depicting outer space travel, the next frontier. This work of art does not require framing as it is composed on gallery wrap canvas which allows the artist to paint around the edges of the painting. Hand-painted and signed by fine artist Teresa Bernard.
See Artist Comments below for additional information regarding this painting.
Authenticity Certified
This painting comes with an official Certificate of Authenticity. It is your guarantee the artwork you have purchased is a genuine Teresa Bernard Oil Painting.
Purchasing Information
NEW LOWER PRICE!
$420
was $470
FREE shipping and handling within the U.S.A.
Contact us for international postage and handling.
By purchasing your painting from this site, you are buying directly from Teresa Bernard. All transactions are via PayPal, a safe and secure way to make your purchase.
Artist Comments
I love great sci-fi movies like Star Trek, Star Wars, and Star Gate; just about any story where space travel is involved. I should have grown up to be an astronaut instead of an artist, well, maybe. The bottom line is, I love adventure, and to me, traveling through the far reaches of outer space would be the ultimate in adventure.  It was only natural that I create a painting with the subject of space travel.

In addition to loving the idea of space travel, I am very interested in our national space program and the newly formed United States Space Force. I'm amazed at the many modern inventions we take for granted made possible because of space technology. Inventions like long-distance telecommunications, cellphones, water filters, invisible braces, scratch-resistant lenses used in our eyeglasses, and even memory foam used to make our mattresses. Other inventions include solar energy and the insulation used in our attics and walls and portable cordless vacuums, workout equipment, and CatScans. Even smoke detectors, cordless tools, and artificial limbs, to name just a few. Indeed space travel and exploration have created new markets and new technologies that have spurred economic growth and enriched our lives in many ways.
Lastly, I call this painting "…The Next Frontier" because I do not believe space exploration is our final destiny. We explore space; it is our next frontier, not our last. The last frontier is life with our Creator God in His kingdom for all eternity! The Bible has much to say about this topic. Check it out for yourself!
Check out this website for a list of those inventions.
Have a question?
If you have a question about this painting, please contact us, and we'll be happy to answer any of your questions.
Other Paintings Of Interest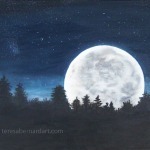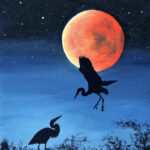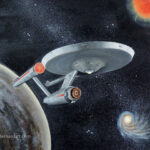 Teresa's Insider News
Be the first to know! Sign up here to be among the first to receive sneak peeks of recently completed paintings, new announcements, and other updates at the art studio.
Teresa has an insider newsletter, and it's FREE! This is her way of keeping her friends up to date by giving you sneak peeks of new paintings she completes, as well as other announcements before they are made public. Her newsletter is published every other month, so be sure to get on her mailing list. You don't want to miss a thing!
Your Feedback
♦ "When I was a little kid, I loved to draw spaceships during every idle moment. The adult caregivers eventually cured me of that allegedly bad habit. I know it doesn't pay well, but please continue with your space-themed art. I think your painting is beautiful!" — Austin Morris, Space And The Great Beyond Also Aliens, Gab
Thanks for looking!
Feel free to share this with your friends.
---