Gallery quality original oil paintings of outer space and off-world locations on small to large-sized stretched canvas or canvas panels. All space art paintings for sale are hand-painted and signed by fine artist Teresa Bernard.
SHOP NOW! All space art paintings have been marked down. 
Click on the thumbnail for more information and to purchase.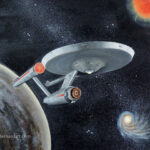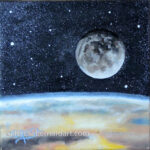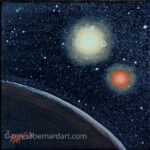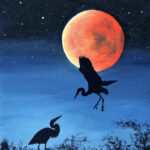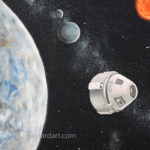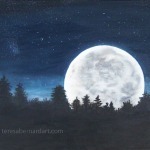 Authenticity Certified
All paintings come with an official Certificate of Authenticity. This is your guarantee the artwork you have purchased is a genuine Teresa Bernard Oil Painting.
To Purchase A Painting
All space art oil paintings for sale are hand-painted and signed by fine artist Teresa Bernard. If you would like to purchase one of the paintings above, click on the thumbnail image to navigate to the painting's more information page. By purchasing your painting from this site, you are buying directly from Teresa Bernard.
All transactions are via PayPal. This provides customers with a safe and secure way to purchase their paintings online.
For more information, see policies.
Artist Comments
A few years ago, my husband and I took a trip to San Antonio, TX, the day after Thanksgiving. We planned for a long weekend. While there, we spent the evenings strolling the streets around the Alamo when we came across an artist selling his space art on the sidewalk. The interesting part about this, he was painting them right then and there as spectators watched. It was fascinating to watch him create faraway worlds, moons, cosmic formations, and alien landscapes. I looked on as he created his artwork using spray paint and props to mask off certain areas of the canvas paper he didn't want overspray to hit. Each creation only took a few minutes to complete. And no two paintings were alike. I could have watched him all night! When we returned home from that long weekend, I decided to do some space paintings of my own.
Space art isn't a new genre of art for me. I painted my first outer space painting as a young teen for an arts and crafts show I entered. My love of the iconic TV show Star Trek led me to paint the "Starship Enterprise" in orbit around some distant planet. The painting got a lot of attention at that small art show and later it sold. I wish I had a photograph of it, but I was a young teen at the time and didn't even think to snap a photo of it. Besides, I was just so excited that someone wanted to pay for my painting!
Decades would pass before I did another otherworldly painting, and that space art painting was a commission. The painting consisted of a lunar landscape depicting Apollo 14's mission to the moon and man's first footprint left there. This sparked a renewed interest in creating more space landscapes to add to my repertoire of space art.
I'm a huge fan of the space program. I love the idea of visiting other worlds to see what's out there. One could say I'm a bit of an adventurer at heart. As a matter of fact, to me being able to travel through the far reaches of the galaxy would be the ultimate in adventure. Maybe someday I will, but for today, I'll have to settle for that adventure on the surface of my canvases in the space art paintings I create.
Art Commissions
Not Finding What You Are Looking For?
Teresa is also a commission artist and has painted for fellow art collectors and enthusiasts worldwide. If you have a special painting in mind you would like Teresa to paint for you, follow the link for more information on how to commission a painting. Or contact us for more information.
Have a question?
If you have a question about this painting, please contact us, and we'll be happy to answer any of your questions.
Teresa's Insider News
Be the first to know! Sign up here to be among the first to receive sneak peeks of recently completed paintings, new announcements, and other updates at the art studio.
Teresa has an insider newsletter, and it's FREE! This is her way of keeping her friends up to date by giving you sneak peeks of new paintings she completes, as well as other announcements before they are made public. Her newsletter is published every other month, so be sure to get on her mailing list. You don't want to miss a thing!
Thanks for looking!
Feel free to share this with your friends.
---