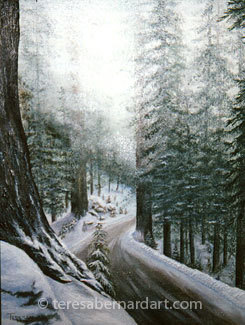 Titled: The Giants of Sequoia National Park
Size: 12″ x 16″
Support: Stretched canvas
Description: A wintery landscape painting of the giant Sequoia trees located in Sequoia National Park, California. This painting is an early artwork of artist Teresa Bernard.
SOLD: This Sequoia National Park painting was sold to a private art collector living in California.
Artist Comments
This snow painting was inspired by a photograph of the giant Sequoia trees. I've seen and walked among these giant trees; they truly are magnificent!
Visit the website of Sequoia National Park for more information.
Your Feedback
♦ "You captured your feelings in these snow pictures they are truly a work of art. You will be recommended to my friends and please make lithographs for future release maybe in years to come. By all means I"d love to see more of these." — L. Mundy, Santa Clarita CA
Thanks for looking!
Feel free to share this with your friends.
---