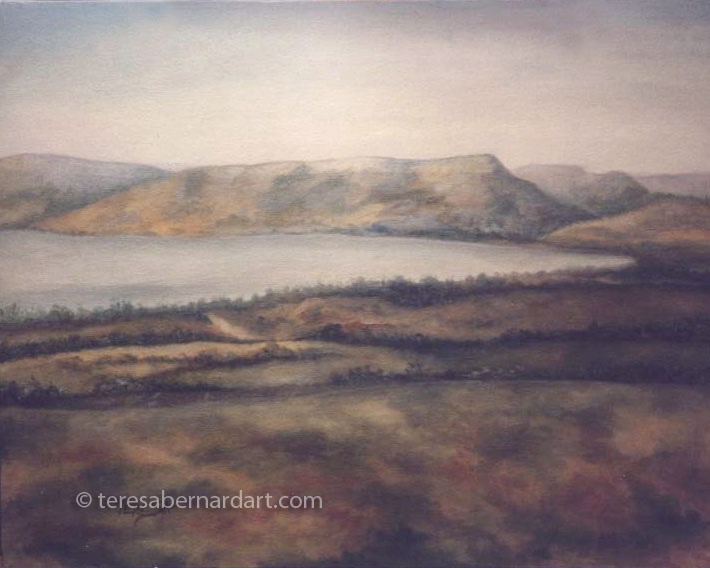 Size: 20″ w x 16″ h
Support: Traditional-style Stretched Canvas
Description: An oil painting featuring a rendition of the modern-day Sea of Galilee and the surrounding area. In the foreground is the shore of Capernaum in Israel and is done in a painterly style of brown, red, and green paints. The Sea of Galilee is considered one of the most important sites in Christianity because it is where Jesus walked on water and performed other miracles. This painting is signed by oil painting artist Teresa Bernard.
The Sea of Galilee at Capernaum painting is hand-painted on a traditional-style stretched canvas. Its sides are raw and unpainted. This painting will need to be framed to give it that finished look before it is put on view.
Artist Comments
The Sea of Galilee is a large freshwater lake located in northeast Israel, between the Golan Heights and the Galilee region. The Jordan River is its primary source of water. The lake is approximately 13 miles long and 8 miles wide.
This painting of the famous Sea of Galilee was inspired by my love of God's word and readings about Jesus in the Bible. I love Israel because God's chosen people live there. I have never visited Israel; however, I would love to go there someday. This painting was composed using a reference photo from the "Pictorial Library of Bible Lands." The photographer, Todd Bolen, graciously permitted me to use his photographs for any of my Bible land paintings.
According to Matthew 4:13-22, this historic biblical location is where Jesus began His ministry and called His first disciples. This passage tells us Jesus left Nazareth and went to Capernaum. While walking along the Sea of Galilee, He called the first four of His disciples Simon (also called Peter), Andrew, James, and John.
Permission to use the photo as a painting source is courtesy of www.BiblePlaces.com.
Purchasing Information
NEW LOWER PRICE!
$205
was $410
FREE shipping and handling within the U.S.A.
Contact us for international postage and handling.
By purchasing your painting from this site, you are buying directly from Teresa Bernard. All transactions are via PayPal, a safe and secure way to make your purchase.
Authenticity Certified
This painting comes with an official Certificate of Authenticity. It is your guarantee the artwork you have purchased is a genuine Teresa Bernard Oil Painting.
Have a question?
If you have a question about this painting, please contact us, and we'll be happy to answer any of your questions.
Other Paintings Of Interest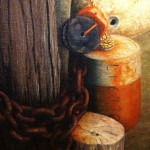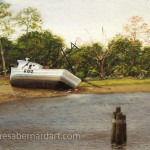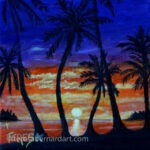 Teresa's Insider News
Teresa has an insider newsletter, and it's FREE!  Be the first to know! Sign up below to receive sneak peeks of recently completed paintings, new announcements, and other updates at the art studio.
Your Feedback
♦ "I love it and looked at the site. The "Sea of Galilee at Capernaum" put me in mind of something by Turner or some of the Hudson River schools. Wonderful stuff." — josisenberg, SciFi & Fantasy Writers, Gab
♦ "I really like your paintings–the portrait of your husband is very unusual in composition and the backlighting–wish I could see it in real life. Another that really caught my eye especially is the Sea of Galilee at Capernaum–the light in the sky is particularly indicative of something spiritual, even if one didn't know a thing about the religious significance of the place." — Elena M., Columbia, MD
Thanks for looking!
Feel free to share this with your friends.
---