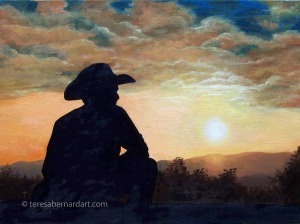 Taking good care of your sunset oil paintings will ensure they last throughout the years and the colors will stay vibrant. Proper care consists of several things you need to take into to consideration.
Here is what you need to keep in mind:
Cleaning Your Painting
Over time your sunset oil paintings will become soiled from dust, lint, cobwebs, dirt, cigarette smoke, or just plain old wear and tear. This can cause all the beautiful colors of the sunset to appear dull and less vivid. With some simple cleaning techniques it is easy to keep the dazzle in those brilliant shades of yellow, orange, blue and purple that make up your sunset canvas art.
The first thing you need to do is remove your painting from the wall. Never try to clean it while it is hanging. You should also remove it from the frame as well. Dust does get into the crevice where the frame overlaps the painting sometimes it is impossible to clean it out while still in the frame. When cleaning be sure to use a soft cloth. Old cotton t shirts or even cloth diapers are great for this purpose. For dusting you can use a feather duster or a Swiffer Duster to remove light coatings of dust, cobwebs and lint. For grimy, oily or sticky areas of the painting you can use an emulsion cleaner that can purchased at an art supply store. Never use a strong detergent as this can damage the colors of your sunset painting.
Preserving the Color
Preserving your sunset oil paintings so they will last a lifetime and even into the next century is a simple task if you follow this easy commonsense technique to care for your artwork. Do not expose your painting to direct sunlight or ultraviolet lights over an extended period of time. Doing so will result in the bright yellow, orange, blue and purple pigments that make up your sunset to fade over time. The best lighting is diffused natural or artificial lights.
Oil paintings need to have some exposure to diffused lighting, if left in storage or in an unlit room for extended periods of time, the linseed oil in the pigment will turn yellow. However, this is a naturally occurring event that the oil goes through. The yellowing can be reversed by putting the painting in a room with natural or artificial lighting. After a couple of days the yellowing in the linseed oil will fade and restore the painting to its original color.
Protecting the Painting
Atmospheric conditions can also affect oil paintings. If you want to make sure your sunset painting will last a hundred years and beyond then you need to take certain steps to protect your canvas art from damage by the environment. Every part of a painting will expand and constrict due to atmospheric conditions. This will cause stress on the painting which can result in premature aging and damage to the artwork. Undergoing rapid changes in temperature and humidity will create the most stress on a work of art. The best environment for a sunset painting is a controlled one where there is a constant 65° temperature.
If this isn't always possible, the next best thing is to take these precautions. It is best to avoid conditions of extreme dryness and heat or humidity and cold that can occur if the painting is displayed in areas where they are directly under air conditioners, heating vents, fireplaces, etc. Also kitchens and bathrooms can create conditions of rapidly changing heat, cold and humidity. Long term exposure to such conditions can cause the paint to flake, the canvas to rot, or the pigment to discolor.
Additional Reading
A Practical Guide To Caring For Your Oil Paintings
Importance of Varnishing Oil Paintings, The
Related Articles
Oil Paintings of Texas Sunsets
The Evening Sky Captured in a Sunset Oil Painting
Why I Love Sunset Oil Paintings
Have a question?
If you have a question about this painting, please contact us and we'll be happy to answer any of your questions.
Teresa's Insider News
Be the first to know! Sign up here to be among the first to receive sneak peeks of recently completed paintings, new announcements and other updates at the art studio.
Teresa has an insider newsletter and it's FREE! This is her way of keeping her friends up to date by giving you sneak peeks of new paintings she completes, as well as other announcements before they are made public. Her newsletter is published every other month, so be sure to get on her mailing list. You don't want to miss a thing!
Thanks for reading this!
Feel free to share this with your friends.
---
UPDATED: 26 October 2020