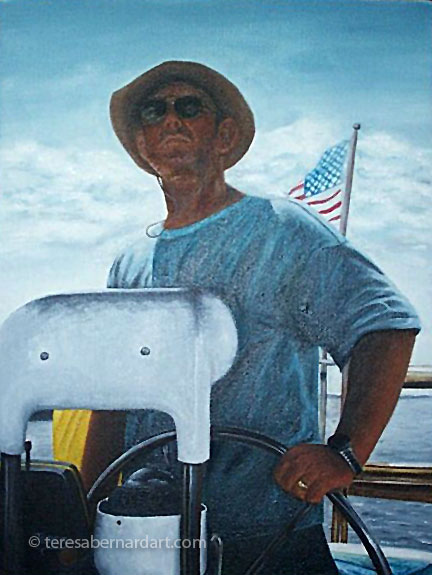 Size: 12″ x 16″
Support: Stretched canvas
Description: Portrait painting of Robert at the helm of his sailboat. This oil painting on canvas is by artist Teresa Bernard.
NOT FOR SALE: This painting is part of Teresa's private art collection and is not for sale. However, if you love this painting and want one of your own, she does do art commissions. Visit How To Commission A Painting for more information.
Artist Comments
This painting is a portrait of my husband Robert at the helm of our sailboat Misty Blue. I did this painting from a photo I took during a trip we made on the boat going up the Intracoastal Waterway (ICW).
On this particular trip Robert who was in the Navy at the time and was being transferred from Jacksonville FL to the naval base in Norfolk VA. We had to figure out a way to move our 36 ft. sailboat from a marina near where we lived in FL to VA so we decided to sail it instead of having it shipped. That decision saved us a ton of money and made us rich with memories! At first we were sailing out in open waters up the east coast, but a storm suddenly came up forcing us to go inland and up the ICW instead. It was a bit frightening for me when we encountered that storm because it was my first sailing trip, however Robert handled it and the sails like the sailing pro he is!
Robert was on deployment with his ship at sea for six months when I started his portrait. I finished it before his return. He had no idea was I doing this painting and was very surprised to see his portrait when he returned home.
This painting is part of my private art collection and is not for sale. One day it will be passed down to his son Travis has a family heirloom, but until that day it will continue to hang in our living room.
Art Commissions
Not Finding What You Are Looking For?
Teresa is also a renown commission artist. She has done paintings for fellow art collectors and enthusiasts around the world. If you have a special painting in mind, she would love the opportunity to paint it for you. Simply follow the link for more information on how to commission a painting.
Have a question?
If you have a question about this painting, please contact us and we'll be happy to answer any of your questions.
Teresa's Insider News
Be the first to know! Sign up here to be among the first to receive sneak peeks of recently completed paintings, new announcements and other updates at the art studio.
Teresa has an insider newsletter and it's FREE! This is her way of keeping her friends up to date by giving you sneak peeks of new paintings she completes, as well as other announcements before they are made public. Her newsletter is published every other month, so be sure to get on her mailing list. You don't want to miss a thing!
Thanks for looking!
Feel free to share this with your friends.
---