Peggy's Cove is one of the numerous small fishing communities located on the eastern shores of St. Margarets Bay in Nova Scotia. This location is also famous for the Peggy's Point Lighthouse (established 1868). Each year many artists and photographers flock to this location to capture its beauty in their creative works. It is also a favorite tourist destination for many vacationers.
The Peggy's Cove Series didn't start out to be a series. I did my first painting of this series in 2005 while living on the east coast in the Norfolk VA area. I loved the way the bright red house stood out in contrast to the water and landscape around it, so I decided to do a painting of this famous Nova Scotia cove.  Two years later the painting sold to a doctor living in Maine. Shortly after the sale a collector from Louisiana commissioned me to do two more paintings of the cove for her. I love this location in Canada and plan on more paintings to add to this series in the near future.
A lot of artists have painted this famous cove and it's easy to see why. You may have noticed that two of the painting are very similar. They are of the same viewpoint, however, since I strive to not create two identical paintings I did paint some differences between the two.
---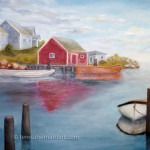 Peggy's Cove
Seascape by Teresa Bernard
20″ x 16″
Oils on stretched canvas
>> More info
---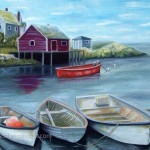 Peggy's Cove Revisited
Seascape by Teresa Bernard
20″ x 16″
Oils on stretched canvas
>> More info
---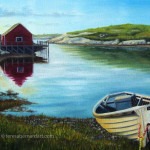 Return to Peggy's Cove
Seascape by Teresa Bernard
20″ x 18″
Oils on stretched canvas
>> More info
---