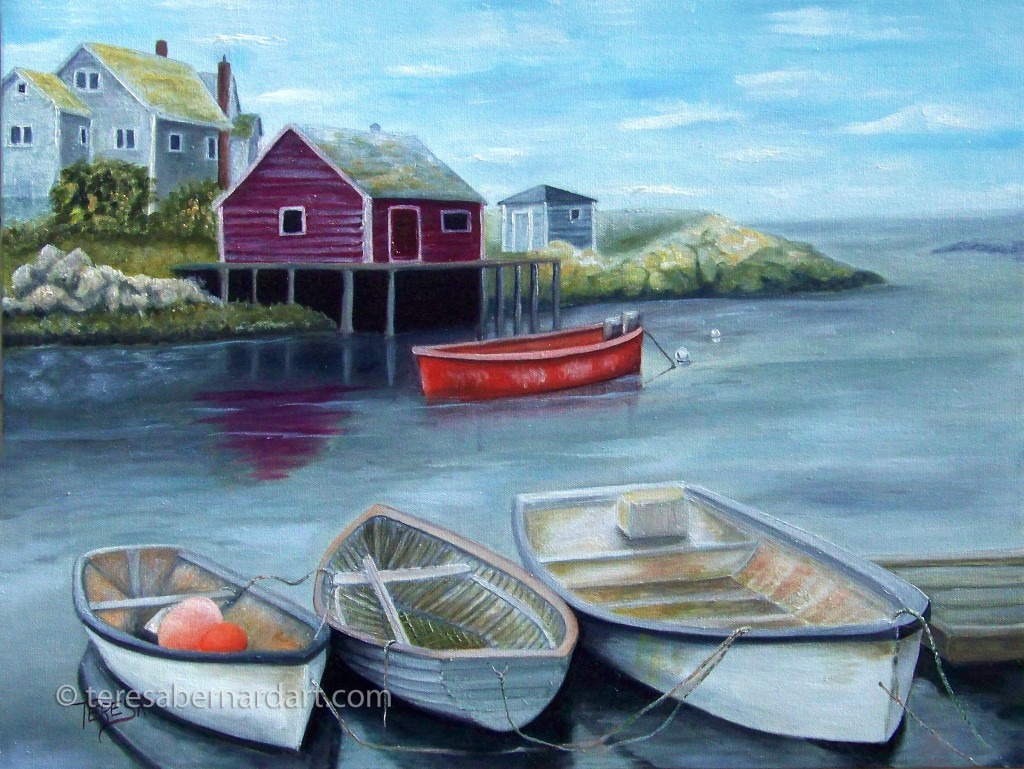 Size: 20″ x 16″
Support: Stretched canvas
Description: An oil painting which features a famous cove in Nova Scotia called Peggy's Cove.
SOLD: This painting was commissioned and sold to an art collector in Mississippi. Teresa Bernard will also do an art commission for you. If you desire a similar painting to this one, click the link above for more information.
Fine Art Prints
Prints of this painting can be purchased in my store at Fine Art America.
Artist Comments
"Peggy's Cove Revisited" is one of two commissioned paintings. An art collector contacted me after seeing a previous painting I had done called "Peggy's Cove." Although this painting is the same subject as the first one, there are some noticeable differences between the two, making Peggy's Cove Revisited an original oil painting and not a reproduction. Peggy's Cove, Nova Scotia is a favorite place that holds many memories for this art collector. She commissioned me to do two paintings for her. The second painting is titled "Return To Peggy's Cove." This painting is part of the Peggy's Cove Series.
Art Commissions
Not Finding What You Are Looking For?
Teresa is also a renown commission artist. She has done paintings for fellow art collectors and enthusiasts around the world. If you have a special painting in mind, she would love the opportunity to paint it for you. Simply follow the link for more information on how to commission a painting.
Have a question?
If you have a question about this painting, please contact us and we'll be happy to answer any of your questions.
Teresa's Insider News
Be the first to know! Sign up here to be among the first to receive sneak peeks of recently completed paintings, new announcements and other updates at the art studio.
Teresa has an insider newsletter and it's FREE! This is her way of keeping her friends up to date by giving you sneak peeks of new paintings she completes, as well as other announcements before they are made public. Her newsletter is published every other month, so be sure to get on her mailing list. You don't want to miss a thing!
Thanks for looking!
Feel free to share this with your friends.
---