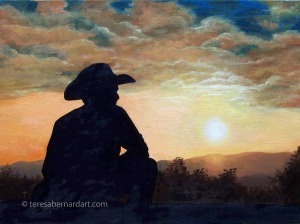 One of the most beautiful places in the world to capture a sunset in oil on canvas is Texas. Being a native Texan, of course I'm prejudice! The Lone Star State with its wide open prairies, cacti, ghost towns, old west culture and billowy clouds make a wonderful backdrop for some of the most breathtaking sunsets anywhere in the world. Artists, like me, who are fortunate enough to live here get to regularly enjoy countless opportunities to capture on canvas the setting sun in all its grandeur and splendor for our many sunset paintings. Those who don't live here can delight in making trips to Texas to see the setting sun for themselves and take it back to their studios in the form of digital photos for many future paintings to come.
Texas cities can make a great sunset cityscape with the unique sky line each metropolis has to offer. Head to the Gulf of Mexico and artists can experience the sun going down on the beach or head out west for a more mountainous terrain and get a glimpse of the mountain peaks of Big Bend National Park as they silhouette them against an orange glowing sky.
Many artists love traveling here to capture the setting sun in all its splendor as it disappears below the horizon. Here are a couple reasons why:
A beautiful sunset helps the viewer to appreciate the finer gifts life has to offer. People are naturally drawn to a sunset and there are a few special places on earth where one can embrace a beautiful sunset. Texas just happens to be one of them.
A beautiful sunset helps to inspire you. There's a reason sunsets are timeless and constant standbys of poets, writers, romantics, and artists — they are inspiring. There is something inherently powerful and spiritual about sunsets.
Some Quotes About Sunsets
"Peace… is seeing a sunset, and knowing Who to thank." – Unknown
"The setting sun, and the music at the close, As the last taste of sweets, is sweetest last, Writ in remembrance more than long things past." – William Shakespeare
"When I admire the wonders of a sunset or the beauty of the moon, my soul expands in the worship of the creator." – Mahatma Gandhi
Additional Reading
Why I love Sunset Oil Paintings
Evening Sky Captured in a Sunset Oil Painting, The
Paintings of Sunset Collection
Paintings Of Sunset By Claude Monet
Proper Care Of Your Sunset Oil Paintings
Have a question?
If you have a question about this painting, please contact us and we'll be happy to answer any of your questions.
Teresa's Insider News
Be the first to know! Sign up here to be among the first to receive sneak peeks of recently completed paintings, new announcements and other updates at the art studio.
Teresa has an insider newsletter and it's FREE! This is her way of keeping her friends up to date by giving you sneak peeks of new paintings she completes, as well as other announcements before they are made public. Her newsletter is published every other month, so be sure to get on her mailing list. You don't want to miss a thing!
Thanks for reading this!
Feel free to share this with your friends.
---