Getting Started as an Artist of Flower Oil Paintings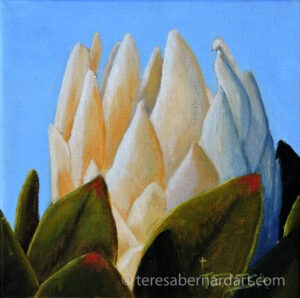 Getting started as a floral artist is easier than you know. All it takes is the desire to paint. The first thing you will need to do is enroll in some art classes that teach painting. It can be either oil or watercolor. It might take a little bit of searching to find a class but it will be worth it. Taking a painting class offers many benefits.
The first being instruction in the "how to" of flower painting. You will have the advantage of being tutored by an experienced artist or multiple artists who can help you as your painting of flowers develops. The instructor can help you select the objects of your flower still life, arrange the set up and also develop the composition that is most pleasing. As you are working on your masterpiece, an instructor can offer suggestions on how to handle problem areas in the painting and also help you figure out how to paint other areas in it.
Another advantage of taking an art class are the students. They can offer camaraderie, give ideas, and also give feed back. Every artist needs this feed back as it gives them an idea of where they are in their skill level. Knowing this bit of information is important when you are ready to sell your paintings.
Starting Your Oil Painting of Flowers
To get your flower oil painting started you will first need to set up your flower arrangement in a still life setting. This entails first selecting the flowers you wish to put into your painting. If you take a walk through your yard, neighborhood or local park, you will likely find a lot of flowers, providing it is the time of year when flowers are in bloom. Be sure to take your camera with you and snap a photograph of them to use as resource material.
You could also purchase some flowers at your local supermarket or flower shop. The only problem with these is they will probably wilt and even die before your painting is finished. Therefore I suggest you photograph your arrangement once your floral still life is the way you like it. That way when your flowers fade you still have the photograph to use as reference material to finish your painting.
For more information on using reference photos of flowers see articles titled "Using Photographs As Reference Material to Paint Flower Oil Paintings" and "Flower Oil Paintings From Reference Photos".
As part of your setting you may want to consider putting your flowers in a beautiful vase, add drapery and some other elements that hold special meaning for you. All of these added elements will complement your flower arrangement and make your painting one that you will enjoy for years.
Sources of Props for Your Flower Still Life
If you looking for unique and unusual items to include in your flower still life paintings, then there are a number of places you can rummage through to find props for your art. The first most obvious place is to look around your own home. Check your attic, basement, garage, and closets too. Anywhere you might store items you want to keep but don't necessarily want to put on display for one reason or the other. Family heirlooms are usually hidden away in these places. These items make can great props for your paintings as they will bring back fond memories for family members who view your painting.
Another place to look is local antique shops, garage sales and flea markets. You can find great props to include your flower still life paintings. Then once you are done using the prop you can display it in your home as part of the décor if you like.
Getting Discovered as a Floral Artist
If as a floral artist, you're waiting around to "get discovered", you just might be waiting for a long, long time. Getting discovered doesn't happen at the drop of a hat. Few artists are fortunate enough to be "found" and thus acquire fame. Most artists have to work to make that happen. Here are a few ways to get your art in front of the public.
Display your art in local businesses and establishments.
Enter your works of art in local and county art shows.
Get a local gallery to show your art and have a private showing of your work.
Have your own private showing and invite the public to come.
For more information on how to sell your artwork, see article titled "Ways to Market Your Art".
Additional Reading
Floral Canvas Art In Your Home
For The Love of Flower Oil Paintings
From Flower Gardens to Flower Paintings
Related Articles
Flower Paintings of Georgia O'Keeffe, The
Flower Paintings of Vincent van Gogh, The
Have a question?
If you have a question about this painting, please contact us and we'll be happy to answer any of your questions.
Teresa's Insider News
Be the first to know! Sign up here to be among the first to receive sneak peeks of recently completed paintings, new announcements and other updates at the art studio.
Teresa has an insider newsletter and it's FREE! This is her way of keeping her friends up to date by giving you sneak peeks of new paintings she completes, as well as other announcements before they are made public. Her newsletter is published every other month, so be sure to get on her mailing list. You don't want to miss a thing!
Thanks for reading this!
Feel free to share this with your friends.
---
UPDATED: 26 October 2020