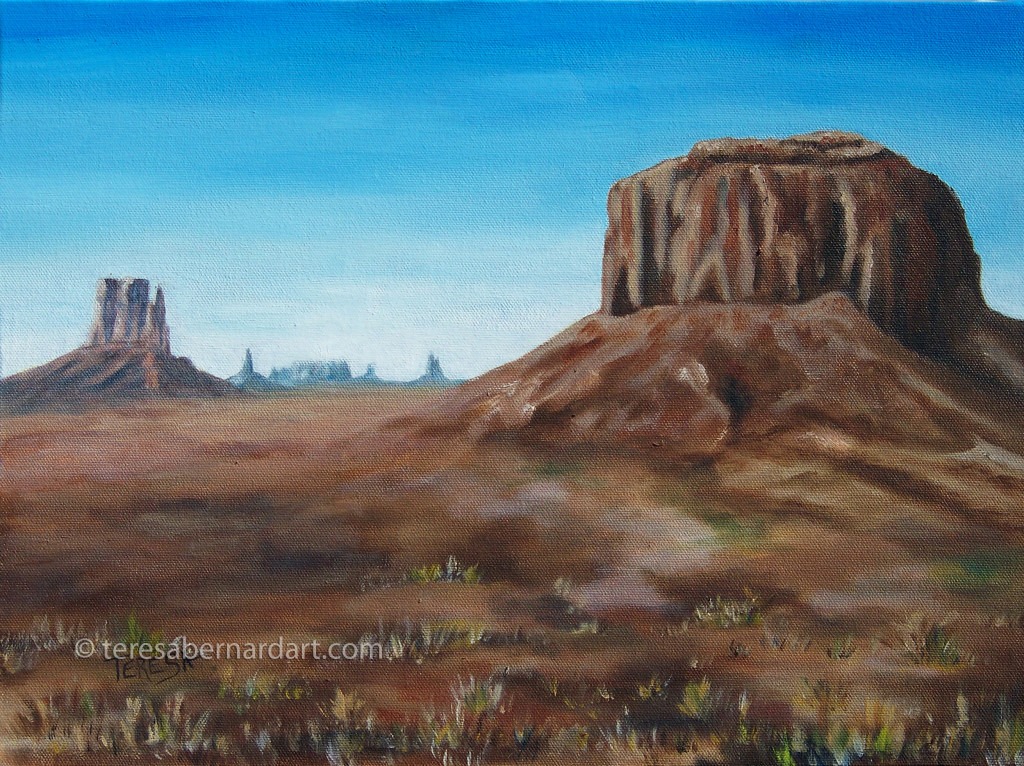 Size: 16″ w x 12″ h
Support: Stretched canvas
Description: A landscape painting of Monument Valley National Park, Utah.  This painting needs framing before display. Hand-painted and signed by fine artist Teresa Bernard.
See Artist Comments below for additional information regarding this painting.
Authenticity Certified
This painting comes with an official Certificate of Authenticity. It is your guarantee the artwork you have purchased is a genuine Teresa Bernard Oil Painting.
Purchasing Information
HALF OFF SALE!
$165
was $330
FREE shipping and handling within the U.S.A.
Contact us for international postage and handling.
By purchasing your painting from this site, you are buying directly from Teresa Bernard. All transactions are via PayPal, a safe and secure way to make your purchase.
Artist Comments
Monument Valley, Utah, also known as "Valley of the Rocks," is considered one of the world's natural wonders and is perhaps the most enduring and definitive image of the iconic American Old West. This valley has long been a favorite location for filming Western movies. The isolated red mesas, striking spires, and sandstone buttes surrounded by an empty, sandy desert have been filmed and photographed countless times over the years.
Called Tsé Bii' Ndzisgaii (Valley of the Rocks) by the Navajo, this famous valley lies in the southern part of Utah near the Arizona border within the Navajo Nation Reservation. When you first approach the area, these rock "monuments" will take your breath away. The eerie rock formations make you feel like you've been transported to another planet. It is truly one of the most majestic places on earth.
The first time I visited Monument Valley National Park, I knew right away I'd be doing a painting of this beautiful valley. In fact, I've painted this place several times. I also have memories of several paintings I did of this place when I was a youngster studying under my dad, a professional oil painting artist. My dad loved painting this location too and painted several oil paintings of it himself. None of those early paintings are around anymore. I'm not sure what became of them—my dads' paintings sold to art collectors and local businesses in the small community where we lived.
For more information about Monument Valley, visit here.
Have a question?
If you have a question about this painting, please contact us, and we'll be happy to answer any of your questions.
Other Paintings Of Interest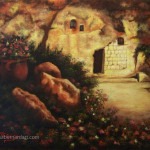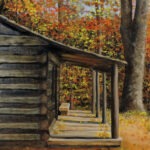 Teresa's Insider News
Be the first to know! Sign up here to be among the first to receive sneak peeks of recently completed paintings, new announcements, and other updates at the art studio.
Teresa has an insider newsletter, and it's FREE! This is her way of keeping her friends up to date by giving you sneak peeks of new paintings she completes, as well as other announcements before they are made public. Her newsletter is published every other month, so be sure to get on her mailing list. You don't want to miss a thing!
Your Feedback
♦ "Looks like a scene from one of the cartoons 🙂 Amazing! Keep it up!" — eXtriNsiC ☑️, Cowboys, rodeos, horses & Cowgirls., Gab
Thanks for looking!
Feel free to share this with your friends.
---