Enjoy this page? Please share it on: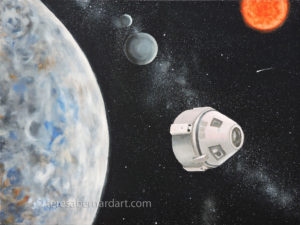 There are a number of ways a space artist can go about marketing their space art. For example, spray paint artists are more likely to sell their art on the sidewalk to onlookers as they watch while the artist creates their space art illustrations. More traditional artists, however, will use a different approach to getting their compositions into the public's hands. Here are just a few of the methods they use:
(1) They will solicit business owners to display their artwork sometimes offering a commission on every painting sold. Such businesses can include, but are not limited to cafés, banks and art galleries.
(2) Still other ways are to attend art fairs and festivals, and art exhibitions where they can display and sell their paintings. This method requires an investment in displays, tables, and canopies, etc., and also requires the artist to be onsite for the duration of the event.
(3) However, there is one venue that is often overlooked by artists and that is the Internet. It is a smart artist who is really serious about selling their artwork to put up a website for showcasing their creations. However it doesn't stop there, now they must get visitors to their website. The more visitors, the greater  potential there is for selling their paintings.
Marketing Online
If you want to market your space paintings online then are a few things you will need.
The most important thing the artist will need is a website. This can be developed using a do-it-yourself template or you can hire a web designer to create one for you. Many graphic web designers are also artists themselves and can build a website that you would be very proud to display your cosmic works of art on.
A PayPal account or some other kind of merchant account so you can accept payments over the Internet. These funds can be deposited directly into your bank accounts. PayPal offers the ability to provide the artist with some "buy now" buttons and will process all transactions for you. They do charge a small fee to do this, however. The upside of this is you can offer your customer a safe and secure method to purchase your paintings without having to have a shopping cart on your website.
A sound SEO strategy is key to getting traffic to your site. SEO is an acronym for "search engine optimization". Getting  traffic to your site is of utmost importance because every visitor to your site is a potential customer. Without traffic you will not make any sales online.
There is one other method that needs to be considered and that is to list your space paintings on sites like "eBay", "Etsy", Artpal, and "FineArtAmerica", to name but a few. These sites will charge a fee when you sell one of your paintings, but it might be a better way to go if you don't want to manage a website yourself.
Finally, selling your space art paintings online can be a very gratifying and lucrative experience for you. It's definitely worth your time and effort to use this method.
Additional Reading
Pricing Your Artwork — Taking A Two Step Approach
Thanks for reading this!
Feel free to share this with your friends.
---
Enjoy this page? Please share it on: