Texas is my home state, I was born and raised here. I left home after graduating high school and went out to the west coast to attend college. I didn't return until my husband (also a native Texan) retired from the Navy in 2006. During my lifetime I've had the opportunity of living in many different places. Now that we're back in Texas to stay, I've been doing a series of paintings which depict what life is like here for me. This will be an ongoing series. Texas is such a large and diverse state, it has a lot to offer when it comes to subject matter to compose a painting from.
I'll never run out of anything to paint because:
in springtime the bluebonnets line the roads as far as the eye can see.
the Gulf Coast is naturally gorgeous.
some of the most beautiful sunsets in the world happen in Texas.
fall brings out an amazing array of colors.
the twisted ribbons of rivers provide an endless source beauty.
the beautiful explosion of stars in the night sky is something to behold.
the land is open and free.
few places have as rich, storied, and proud history as the Lone Star State.
there are real cowboys and cattle in Texas.
And that's just to mention but a few.
---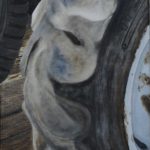 Still Life with Tractor Tire
Still Life by Teresa Bernard
12″ w x 16″ h
Oils on gallery wrap stretched canvas
>> More info
---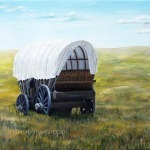 Covered Wagon On The Prairie
Landscape by Teresa Bernard
20″ w x 16″h
Oils on stretched canvas
>> More info
---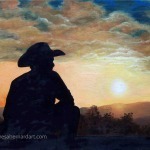 Cowboy Sunset
Landscape by Teresa Bernard
24″ w x 18″ h
Oils on gallery wrap stretched canvas
>> More info
---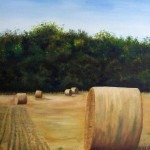 Life in Texas — Round Hay Bales
Landscape by Teresa Bernard
16″ w x 20″ h
Oils on stretched canvas
>> More info
---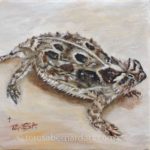 The Texas Horned Lizard (a.k.a. Horny Toad)
TX Wildlife by Teresa Bernard
6″ w x 6″ h
Oils on gallery wrap stretched canvas
>> More info
---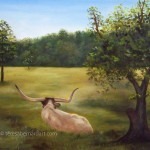 Texas Longhorn in the Meadow
Wildlife Art by Teresa Bernard
20″ w x 16″ h
Oils on gallery wrap stretched canvas
>> More info
---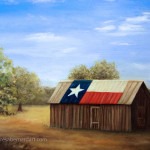 Texas Flag Barn
Landscape by Teresa Bernard
20″ w x 16″ h
Oils on gallery wrap stretched canvas
>> More info
---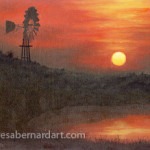 Sunset Over Texas
Landscape by Teresa Bernard
12″ w x 9″ w
Oils on canvas panel board
>> More info
---