Enjoy this page? Please share it on: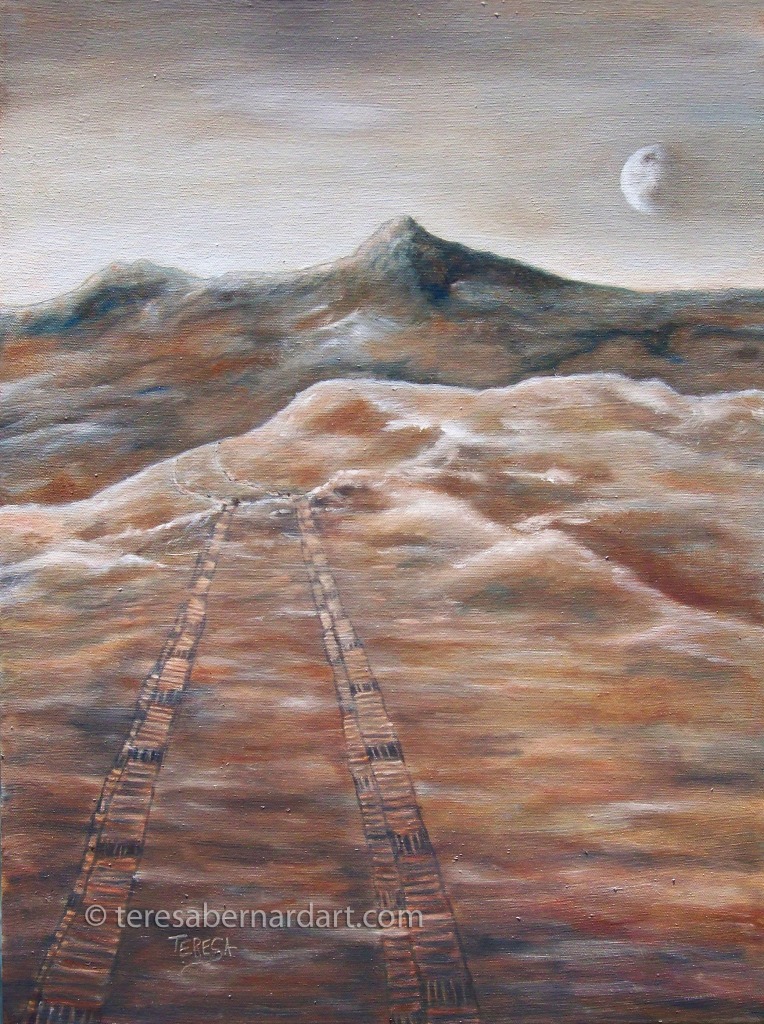 © Copyright 2012 – Present
Size: 18″ x 24″
Support: Gallery wrap stretched canvas
Description: Tracks left behind by one of the land rovers on the surface of Mars and one of its two small moons visible in the sky.
SOLD: This Martian landscape painting was a commission and has old an art collector in Japan. If you desire something similar, Teresa Bernard does commissions. Visit How To Commission A Painting for more information.
Artist Comments
This painting is a commission painting depicting the tracks left behind by one of the land rovers on the Martian landscape. It is one of two custom paintings commissioned by an art collector in Japan. The other painting is called "First Footprint on the Moon."
My client did not want the actual land rover in his painting, he just wanted the tracks that were left behind on the "red planet" by the robot vehicles. I had to do some research on this subject before I could actually compose this painting. So I looked at many NASA photographs of Mars and the two now famous land rovers before starting this painting. I had to get a feel of what the landscape is like as well as study the wheels of the land rovers so I could understand how their tracks were made when they moved across the dusty landscape. My client was very pleased when he saw his painting for the first time.
NASA's Mars Exploration Rover Mission (MER) is an ongoing robotic space mission that began in 2003 with they sent two land rovers to explore the Martian surface and geology. Read more about NASA's Mars land rover expeditions.
Art Commissions
Not Finding What You Are Looking For?
Teresa is also a renown commission artist. She has done paintings for fellow art collectors and enthusiasts around the world. If you have a special painting in mind, she would love the opportunity to paint it for you. Simply follow the link for more information on how to commission a painting.
Thanks for looking!
Feel free to share this with your friends.
---
Enjoy this page? Please share it on: