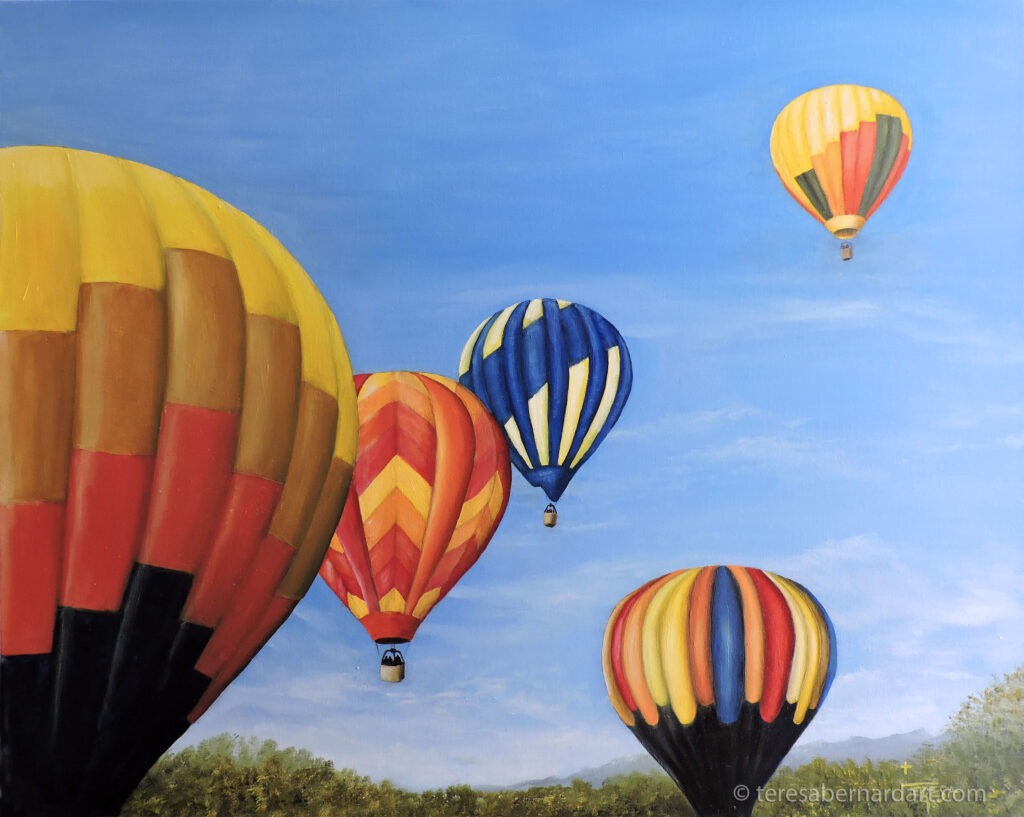 Size: 30″ w x 24″ h
Support: Gallery Wrap Stretched Canvas
Description:  A large oil painting depicting hot air balloons taking to flight in a beautiful blue sky with wispy clouds hovering in the distance. The balloons have a whimsical, happy feel to them. This artwork is an excellent choice for those who are adventurous and love to travel. It is signed by fine artist Teresa Bernard.
Up, Up and Away is hand-painted on gallery wrap stretched canvas. No frame is required to exhibit it because the artwork composition extends around the edges of the canvas. However, it will look great should you choose to have it framed.
Artist Comments
Every summer the city of Longview, Texas hosts the Great Texas Balloon Race. Dubbed "The longest-running hot-air balloon event in Texas," this three-day festival brings professional hot air balloon pilots from all over the world to compete in the event.
According to its website, the event began in 1978 as an advertising gimmick to promote the opening of Longview's new mall. From there, it "ballooned" into the three-day festival spectators enjoy today.
Our family attended this event one year and I got to get up close and watch these balloons as they inflated and took to flight. What a spectacular sight it was! Up, Up and Away painting was inspired by this festival's celebration of hot air balloons.
Find out more about this festival at: http://www.greattexasballoonrace.com/
Purchasing Information
NEW LOWER PRICE!
$540
was $610
FREE shipping and handling within the U.S.A.
Contact us for international postage and handling.
By purchasing your painting from this site, you are buying directly from Teresa Bernard. All transactions are via PayPal, a safe and secure way to make your purchase.
Authenticity Certified
This painting comes with an official Certificate of Authenticity. It is your guarantee the artwork you have purchased is a genuine Teresa Bernard Oil Painting.
Have a question?
If you have a question about this painting, please contact us, and we'll be happy to answer any of your questions.
Other Paintings Of Interest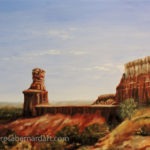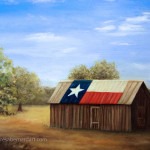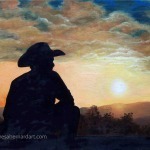 Teresa's Insider News
Teresa has an insider newsletter, and it's FREE!  Be the first to know! Sign up below to receive sneak peeks of recently completed paintings, new announcements, and other updates at the art studio.
Thanks for looking!
Feel free to share this with your friends.
---
UPDATED: 01 April 2022