Enjoy this page? Please share it on: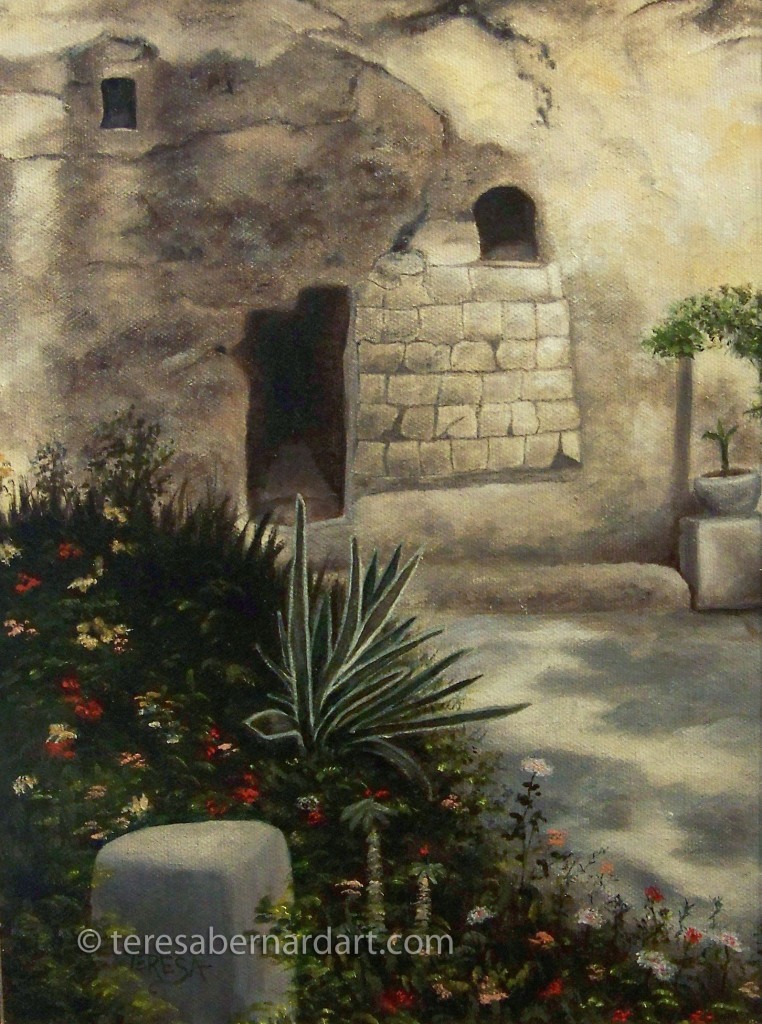 © Copyright 2004 – Present
Size: 9″ x 12″
Support: Stretched canvas
Description: An oil painting of a famous Israeli garden visited by many every year. It depicts the Garden Tomb at Gethsemane.
NOT FOR SALE: This painting is part of Teresa's private art collection and is not for sale. However, if you love this painting and want one of your own, she does do art commissions. Visit How To Commission A Painting for more information.
Artist Comments
This painting of a rock-cut tomb situated in the Garden of Gethsemane in Jerusalem, and is one of my personal favorites. This famous Israeli location is believed by many Christians to be the burial and resurrection place of Jesus Christ after His crucifixion at Golgotha, the place of the skull. Being a devout Christian, this particular painting has a lot of personal meaning for me. It is one of two I painted of this famous travel place. The other painting is called The Garden Tomb at Sunset.
The Burial and Resurrection of Jesus the Christ
"As evening approached, there came a rich man from Arimathea, named Joseph, who had himself become a disciple of Jesus. Going to Pilate, he asked for Jesus' body, and Pilate ordered that it be given to him. Joseph took the body, wrapped it in a clean linen cloth, and placed it in his own new tomb that he had cut out of the rock. He rolled a big stone in front of the entrance to the tomb and went away." Matthew 27:57-60
"He is not here: for He is risen, as he said. Come, see the place where the Lord lay." Matthew 28:6
The Garden Tomb is part of the Holy Lands series.
Art Commissions
Not Finding What You Are Looking For?
Teresa is also a renown commission artist. She has done paintings for fellow art collectors and enthusiasts around the world. If you have a special painting in mind, she would love the opportunity to paint it for you. Simply follow the link for more information on how to commission a painting.
Thanks for looking!
Feel free to share this with your friends.
---
Enjoy this page? Please share it on: