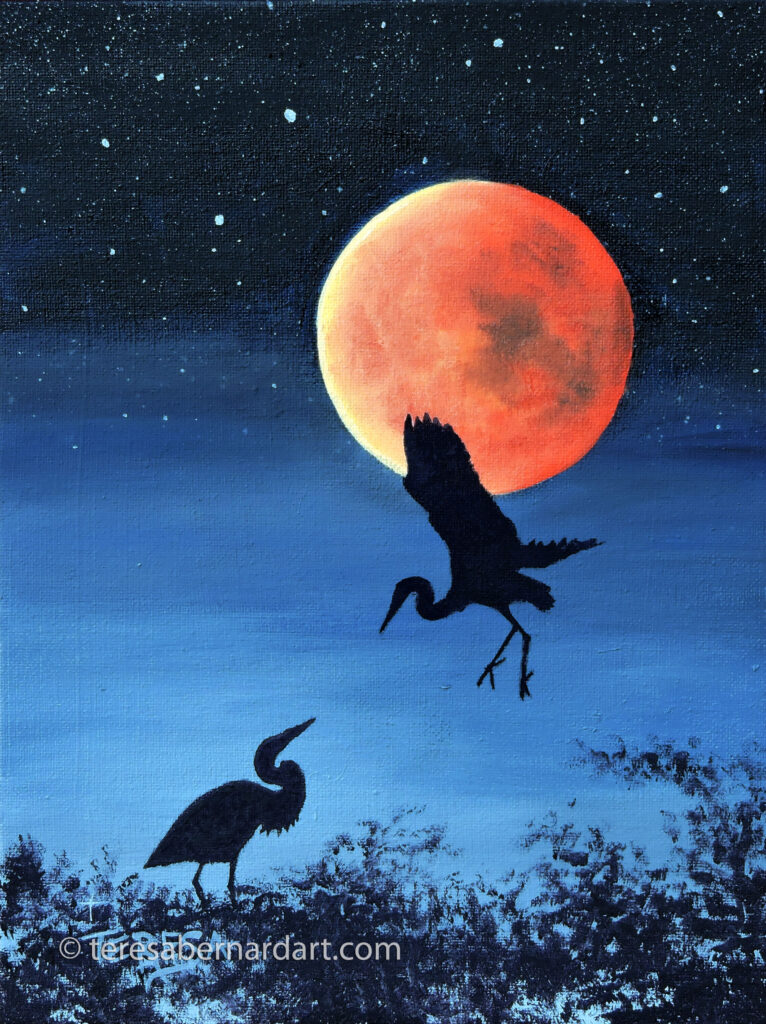 Size: 9″ w x 12″ h
Support: Canvas panel
Description: A painting depicting a bright orange full moon in the night sky with two egrets in silhouette perched atop a tree. This painting is composed on a quality canvas panel; it will need a frame before display. Hand-painted and signed by fine artist Teresa Bernard.
See Artist Comments below for additional information regarding this painting.
Authenticity Certified
This painting comes with an official Certificate of Authenticity. It is your guarantee the artwork you have purchased is a genuine Teresa Bernard Oil Painting.
Purchasing Information
NEW LOWER PRICE!
$180
was $210
FREE shipping and handling within the U.S.A.
Contact us for international postage and handling.
By purchasing your painting from this site, you are buying directly from Teresa Bernard. All transactions are via PayPal, a safe and secure way to make your purchase.
Artist Comments
The most eye-catching feature of this painting is that big orange moon in the night sky silhouetted by an egret. Looking at it, one can easily daydream what it might be like to "fly away" to Earth's only satellite and beyond. Sometimes I feel as if I should have become an astronaut instead of an artist.
The night sky is one of my favorite things. I love looking up at it to see the vastness of outer space, the faraway planets, the milky way along with all the stars and constellations, and of course, Earth's moon in whichever stage it happens to be in at the time. I especially love seeing our moon shining so brightly it makes the night look like it's daytime!
What Makes The Moon Appear In Different Colors?
A unique and beautiful feature of our moon is its ability to appear in different colors. In truth, the moon doesn't really change color at all; it only seems to be changing color because we are viewing it through Earth's atmosphere. As we view the moon, we look up through the various layers of our atmosphere and all the particles in it, such as dust, smoke, and pollution.
One other thing that affects the way we perceive the moon is its location in the sky. For instance, the moon often appears more yellow or orange when it is closer to the horizon. This is because the angle we see it through is a denser portion of Earth's atmosphere. When the moon is in a higher position up in the sky or directly above us, we are looking through a much thinner layer of the atmosphere, causing it to be visible in its more normal color of silvery white or ash gray.
There is one more explanation that is more complex called "Rayleigh's scattering." This involves sunlight which is made up of a combination of different color wavelengths. When sunlight hits our atmosphere, Rayleigh's scattering takes over and "scatters" the various wavelengths. Suffice it to say; this natural phenomenon causes the colorful sunrises and sunsets we get to enjoy every day. It is also responsible for making the sky look blue during the daylight hours and affects the moon's color day or night. How this all works is fascinating.  Click here for more information on this phenomenon.
Have a question?
If you have a question about this painting, please contact us, and we'll be happy to answer any of your questions.
Other Paintings Of Interest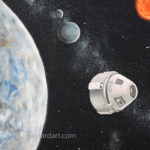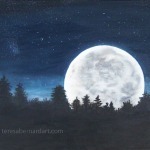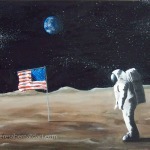 Teresa's Insider News
Be the first to know! Sign up here to be among the first to receive sneak peeks of recently completed paintings, new announcements, and other updates at the art studio.
Teresa has an insider newsletter, and it's FREE! This is her way of keeping her friends up to date by giving you sneak peeks of new paintings she completes, as well as other announcements before they are made public. Her newsletter is published every other month, so be sure to get on her mailing list. You don't want to miss a thing!
Your Feedback
♦ "Beautiful paintings. Love the egrets flying in front of an orange moon." — X Oh, Science, Space & Technology News 🚀, Gab
Thanks for looking!
Feel free to share this with your friends.
---
UPDATED: 11 July 2021