Enjoy this page? Please share it on: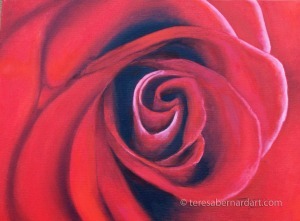 Flowers make great subjects for oil paintings and some wonderful paintings of flowers can be created from photographs. Why would an artist even want to use reference photos to paint flowers from? You'd be surprised.
One of the best reasons to paint flowers from photographs is artists can do it at their leisure. With reference photos, there simply is no reason to hurry. Photographs make it easy for an artist to paint flowers because the picture will "preserve" the beauty of such a fragile, quickly fading creation of God. Flowers don't last forever and will usually die after only a few days. When this happens, artists then have go out and find another bouquet of the same kinds of flowers to recreate their arrangement with just so they can finish their paintings. By taking a picture of the arrangement when they have it arranged just like they want it, the artist can use it as reference material so their paintings can be finished without additional bother and at a time when it is convenient for the artist.
Either one or more photos can be used to create a floral painting from. It is much better to create your arrangement using real flowers picked from your garden or purchased from a retail outlet and then photograph the arrangement. This will make a good source of reference material from which to create your painting from. Without this photograph once your flowers have faded away you loose your subject for the painting. Below are some tips for using resource photos to paint flower oil paintings.
If you are an artist and desire to create flower oil paintings here are some great tips for you.
Tip #1: Using photos as reference material to paint from is a great way to create floral wall art to display in your home or office. The flowers captured in your photos will never fade or die like fresh ones will. They can also be reused for future paintings.
Tip #2: Try to gather or take multiple photographic pictures to work from. Each photograph should be from a different angle as this will make it easier to paint flowers in your arrangement pointing in several directions. Having your flowers facing several different directions creates more interest in your composition.
Tip #3: Take a walk or visit a park where a flower garden is and observe flowers in their natural habitat. There is such a variety of flowers in nature. Notice how they grow up from the soil at different heights, blossom out at various stages from bud to full blossom and facing in all directions, ect. These observations will be a helpful aid as you paint a more realistic floral arrangement back at the studio.
Tip #4: Before putting paintbrush to canvas, it would a good idea to sketch out your flower arrangement using your photographs as reference. This preliminary drawing will serve as a guide for you when you transfer your drawing to canvas.
Tip #5: Refer to your photographs often to compare flower shapes and colors. Try to match as closely as you can to the flowers depicted in your photographs. This will make for a more successful painting.
Once your painting is complete you will be able to sit back and enjoy the beauty of nature and at the same time be proud of your accomplishment. Friends and family will be proud of you too.
Additional Reading
10 Tips for Taking Artist Reference Photos
Using Photographs As Reference Material to Paint Flower Oil Paintings
Thanks for reading this!
Feel free to share this with your friends.
---
Enjoy this page? Please share it on: