Enjoy this page? Please share it on:
Flower Art In History
Since the dawn of time flowers have been admired by man for their beauty. The incredible attractiveness of flowers has also given them an added importance as decorative objects for residences and places of business. Through the centuries flowers have been used as the elements of floral canvas art as well. The first flower painting appeared on the walls of Egyptian tombs. The flower often depicted in these early paintings was the lotus blossom. The blossom can also be found in other art forms such as jewelry and architecture. Fresco paintings of flower gardens have been discovered in the remains of the buried Roman city of Pompeii. During the Gothic era, flowers were depicted in paintings as symbols of the personality or importance of particular people. Roses symbolized love, lilies depicted purity, the tulip represented nobility, sunflowers portrayed devotion. By the time of the Renaissance, flowers were used to amplify mythological subjects. In Dutch floral paintings flowers were also used to depicted the stages of human life.
The Meaning of Flowers in Art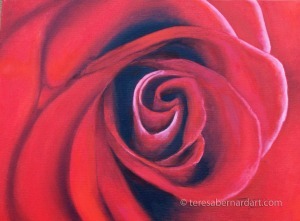 Modern artists have been using the significance of flowers in their floral canvas art for centuries. They have been cherished for more than just their beauty. The meaning of flowers has been used as an artistic expression of one's emotions, whether it is a symbol of love, jealousy or romance. The meaning of a red rose is love. Is there any wonder why red roses are a favorite Valentine's Day flower? A red carnation also conveys passion and at the same time a striped carnation is a sign of refusal. The lily depicts purity, tulips represent nobility, and sunflowers portray devotion. Flowers have inspired artists through the ages and have used their meaning to create breath taking beauty in their floral art compositions. Some famous paintings include Vincent van Gogh's "Sunflowers" and Georgia O'Keefe's "Red Poppy".  Flower paintings make perfect house warming gifts because just about everyone loves them. They are very versatile and make great additions to the décor in any room of your home or even in the waiting room of an office. They make great conversation pieces and provide a welcoming atmosphere for family, visitors or customers and clients.
Why Artists Love to Paint Flowers
Flowers have long been a favorite subject for many oil painting artists. The many colors, forms and shapes of flowers offer an endless diverseness within the compositions of the old masters. This is why flowers are loved as a subject matter by artists. The world over artists have immortalized the beauty of flowers in their art. Some famous floral art includes Monet's "Water Lilies" and Vincent Van Gogh's "Sunflowers". Monet was a French Impressionist of oil paintings. His paintings reflect the influence of light. His flower paintings are bright, colorful and distinctive and are among the most popular floral art for all time. Dutch post-Impressionist artist, Vincent van Gogh created some remarkable works of art. Among them are his famous still life paintings of sunflowers. These seem to have some special meaning for van Gogh because he painted eleven canvases with sunflowers. Other flowers van Gogh painted were irises, lilacs, roses and oleanders.
Additional Reading
Floral Canvas Art In Your Home
For The Love of Flower Oil Paintings
From Flower Gardens to Flower Paintings
Notes on Becoming an Artist of Flower Oil Paintings
Related Articles
Flower Paintings of Georgia O'Keeffe, The
Flower Paintings of Vincent van Gogh, The
Thanks for reading this!
Feel free to share this with your friends.
---
Enjoy this page? Please share it on: