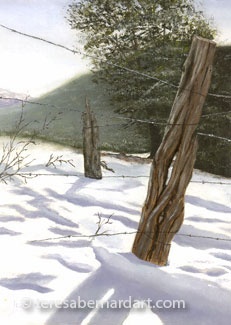 Size: 9″ x 12″
Support: Canvas panel
Description: A wintery landscape painting featuring snow, barbwire, and fence post on a cold, snowy day. This painting is composed on a quality canvas panel and does require a frame before it is displayed.
SOLD: This snow painting was sold to a private art collector in Massachusetts.
Artist Comments
This painting is one of my earlier works. Its wintery landscape setting is one of my favorite snow paintings. I enjoyed painting this fence post with all its knots, texture, and that hole. Painting those shadows in the snow turned out to be quite interesting too. I thought the barbed wire would be a bit of a challenge to paint and almost left it out. I'm glad I didn't.
UPDATE: I have another fence post painting. It is called "Fence Post in the Meadow". Check it out.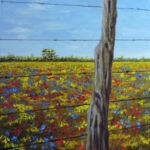 Have a question?
If you have a question about this painting, please contact us, and we'll be happy to answer any of your questions.
Teresa's Insider News
Be the first to know! Sign up here to be among the first to receive sneak peeks of recently completed paintings, new announcements, and other updates at the art studio.
Teresa has an insider newsletter, and it's FREE! This is her way of keeping her friends up to date by giving you sneak peeks of new paintings she completes, as well as other announcements before they are made public. Her newsletter is published every other month, so be sure to get on her mailing list. You don't want to miss a thing!
Your Feedback
♦ "You captured your feelings in these snow pictures they are truly a work of art. You will be recommended to my friends and please make lithographs for future release maybe in years to come. By all means I"d love to see more of these." — L. Mundy, Santa Clarita CA
Thanks for looking!
Feel free to share this with your friends.
---