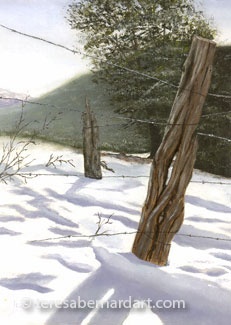 © Copyright 2001 – Present
Size: 9″ x 12″
Support: Canvas panel board
Description: A winter landscape painting featuring snow, barbwire fence and post on a cold snowy day. This  painting is one of artist Teresa Bernard's early works.
SOLD: This snow painting has sold. If you desire something similar or have something else in mind, Teresa Bernard does commissions and will do a special painting for you too. Visit How To Commission A Painting for more information.
Artist Comments: This winter landscape is one of my favorite snow paintings. I really enjoyed painting this fence post with all its knots, texture, and that hole. Painting those shadows in the snow turned out to be quite interesting too. I thought the barb wire was going to be a bit of a challenge to paint and almost left it out.
Note: This painting sold to a private art collector in Massachusetts.
---