Enjoy this page? Please share it on: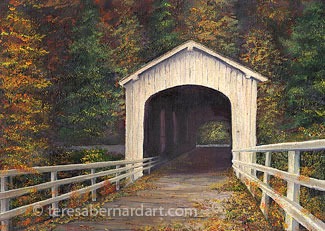 © Copyright 1997 – Present
Size: 12″ x 9″
Support: Canvas panel board
Description: A covered bridge landscape painting. This is an early artwork of artist Teresa Bernard.
SOLD: This autumn landscape painting has sold to a private art collector in Texas. If you like this painting and desire one that is similar or some other subject matter, Teresa Bernard does art commissions. Click the link above for more information.
Artist Comments
One of the many things Oregon is known for is its covered bridges. Lane County seems to have an abundance of them. My friend Judy and I had a delightful time one autumn day discovering some of those bridges. The covered bridge depicted in this fall painting is Earnest Bridge over the Mohawk River.
You can find out more about the historic bridges of Lane county here.
Art Commissions
Not Finding What You Are Looking For?
Teresa creates works of art for fellow art lovers all over the world. Follow this link to find out how to commission a painting of your own. Or contact us for more information.
Thanks for looking!
Feel free to share this with your friends.
---
Enjoy this page? Please share it on: