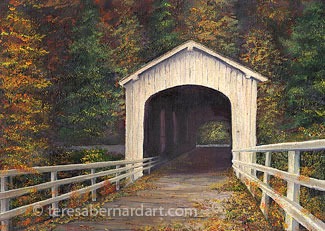 © Copyright 1997 – Present
Size: 12″ x 9″
Support: Canvas panel board
Artist Comments: One of the many things Oregon is known for is its covered bridges. Lane County seems to have an abundance of them. My friend Judy and I had a delightful time one autumn day discovering some of those bridges. The covered bridge depicted in this fall painting is Earnest Bridge over the Mohawk River.
You can find out more about the historic bridges of Lane county here.
Note: This painting sold to a private art collector in Texas.
---