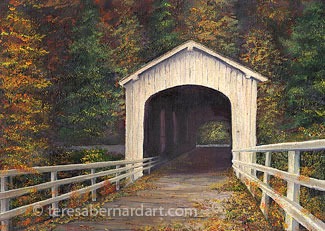 Size: 12″ x 9″
Support: Canvas panel
Description: An autumn landscape painting depicting one of many covered bridges in Oregon. This painting is composed on a quality canvas panel and does require a frame before it is displayed.
SOLD: This autumn landscape painting has been sold to a private art collector in Texas.
Artist Comments
One of the many things Oregon is known for is its covered bridges. Lane County seems to have an abundance of them. My friend Judy and I had a delightful time one autumn day discovering some of those bridges. The covered bridge depicted in this fall painting is Earnest Bridge over the Mohawk River. You can find out more about the historic bridges of Lane county here.
This covered bridge painting is one of my earlier works. Unfortunately, I don't have photos of all my earlier works, but this one I did.  I hope you enjoy it.
Other Paintings of Oregon
Despite the fact that I no longer live in Oregon, the Pacific Northwest continues to inspire me. More Oregon paintings can be found below.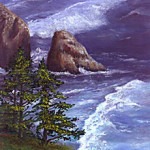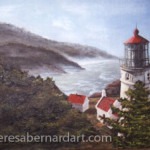 Your Feedback
♦ "Your paintings are sooooo beautiful and realistic. I live in Oregon and wish I could have purchased your Lane County Covered Bridge. I am in awe of your work. I just can't say enough nice things about your paintings. Wish I could do it!!!!" — Susan A., Oregon
♦ "I like your work very much. I grew up in Lane County near a bridge very much like the one you painted. When I went to my High School class reunion in 1984, the bridge had been replaced by an open bridge. I have not been back to Oregon since." — Donna B., Texas
Thanks for looking!
Feel free to share this with your friends.
---