Enjoy this page? Please share it on: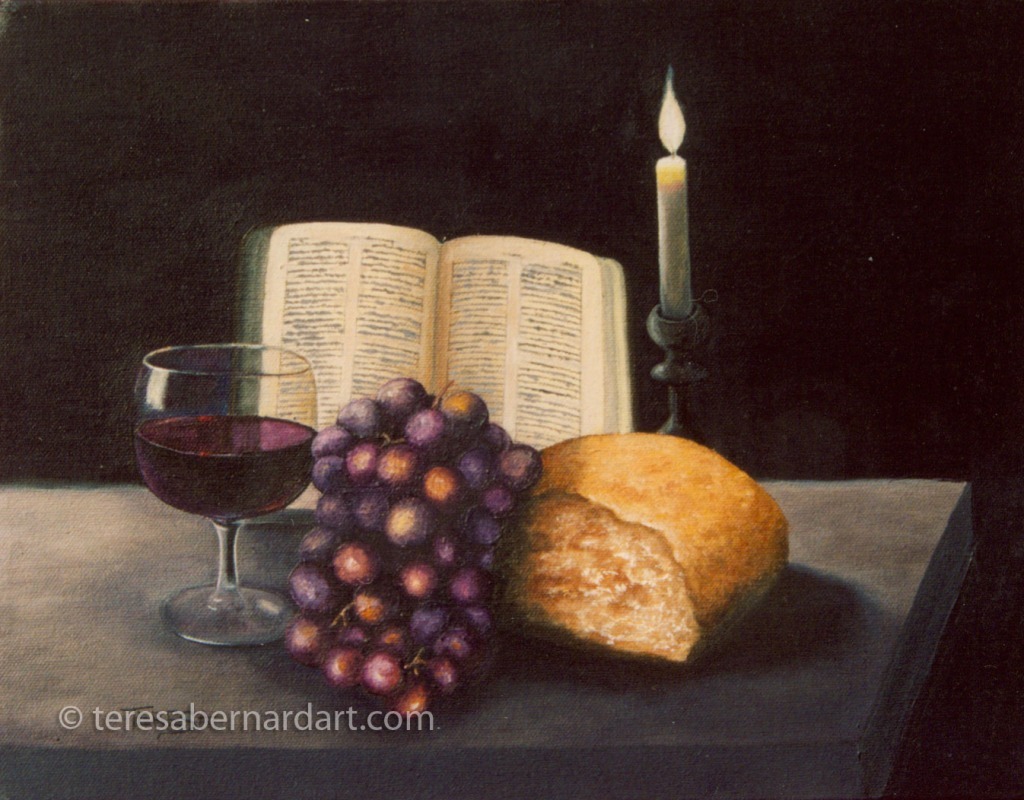 © Copyright 2004 – Present
Size: 14″ x 11″
Support: Stretched canvas
Description: A traditional still life painting with bread and wine. Religious elements are also present giving it a spiritual essence.
SOLD: This religious still life painting has sold to an art collector in Singapore. If you like this painting and desire one that is similar or some other subject matter, Teresa Bernard does art commissions. Click the link above for more information.
Artist Comments
This is a typical still life painting of bread, grapes and wine,  elements often used by artists when painting a communion still life. However, I added a few more elements to my rendition, a candle representing Jesus Christ the light of the world, and The Holy Bible the Word of God.
God is a very big part of my life. I felt inspired to do some paintings which contain an inspirational message and this painting is one of those. It depicts the bread and wine of communion and has special meaning to me.
This piece of wall art is part of a series of paintings called the Christian Art Series.
Art Commissions
Not Finding What You Are Looking For?
Teresa is also a renown commission artist. She has done paintings for fellow art collectors and enthusiasts around the world. If you have a special painting in mind, she would love the opportunity to paint it for you. Simply follow the link for more information on how to commission a painting.
Thanks for looking!
Feel free to share this with your friends.
---
Enjoy this page? Please share it on: