Enjoy this page? Please share it on: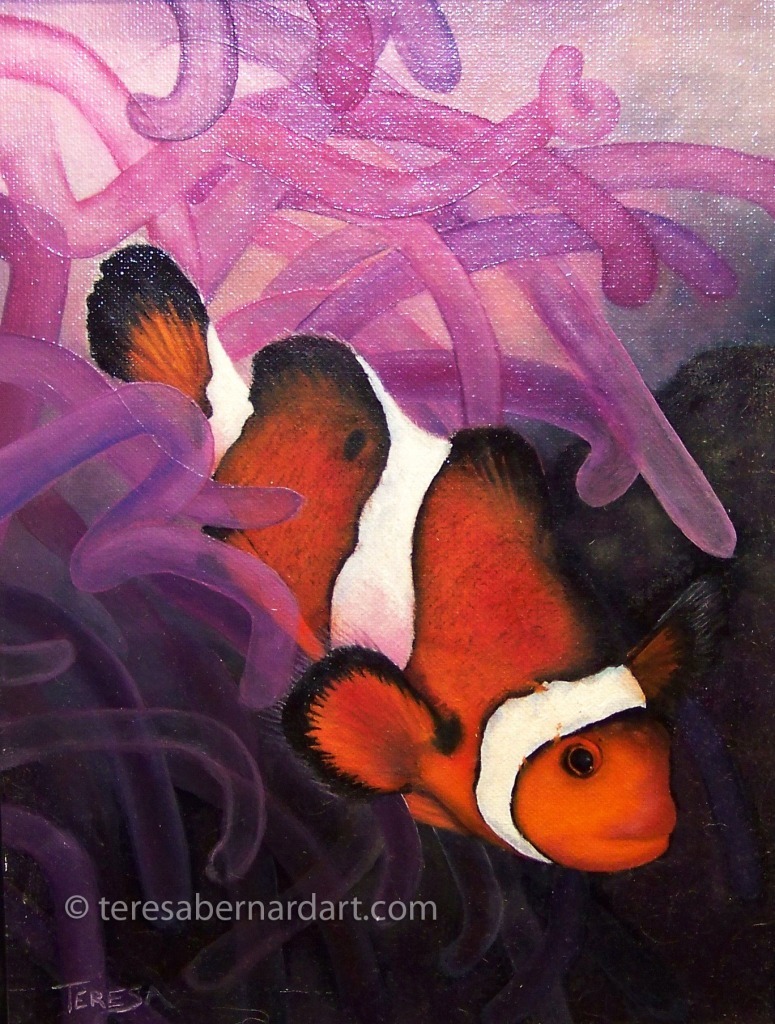 © Copyright 1998 – Present
Size: 9″ x 12″
Support: Canvas panel board
Description: A rendition of a Clownfish swimming among sea anemone. This painting is one of the early works by artist Teresa Bernard.
SOLD: This sea life painting sold to a private art collector in Texas. If you desire something similar to this artwork or have something else in mind, do not hesitate to contact us, Teresa Bernard does art commissions. Click on the link for more information.
Artist Comments
Clownfish are a salt water fish. They are also called Anemonefish because they are often found living among the sea anemone. They are colorful little sea creatures that come in a variety of colors: yellow, orange, or a reddish or blackish color, and many have three white bars or patches of white depending on the species. Clown Anemonefish prefer the warmer waters of the Indian and Pacific oceans, as well as  the Great Barrier Reef and the Red Sea. They are not found in the Atlantic Ocean, Caribbean, or Mediterranean Sea.
My painting makes this tiny fish look much larger than it really is, as they only grow to between 3 and 7 inches in length. I was visiting a pet shop with my kids one day where some of these where fish on display. I was simply amazed at how tiny these wondrous sea creatures actually are!
Some Interesting Facts About Clownfish
All Clownfish are born male. Later after maturity, some will become female.
They typically eat algae, zooplankton, worms and small crustaceans.
Clownfish live in a "symbiotic" relationship with their host anemones.
They are extremely aggressive fish and will defend their territory and the sea anemone that they live in.
The Clownfish will live up to 5 years in captivity and up to 10 years in the wild.
More information and photos of Clown Fish can be found here.
Art Commissions
Not Finding What You Are Looking For?
Teresa creates works of art for fellow art lovers all over the world. Follow this link to find out how to commission a painting of your own. Or contact us for more information.
Thanks for looking!
Feel free to share this with your friends.
---
Enjoy this page? Please share it on: