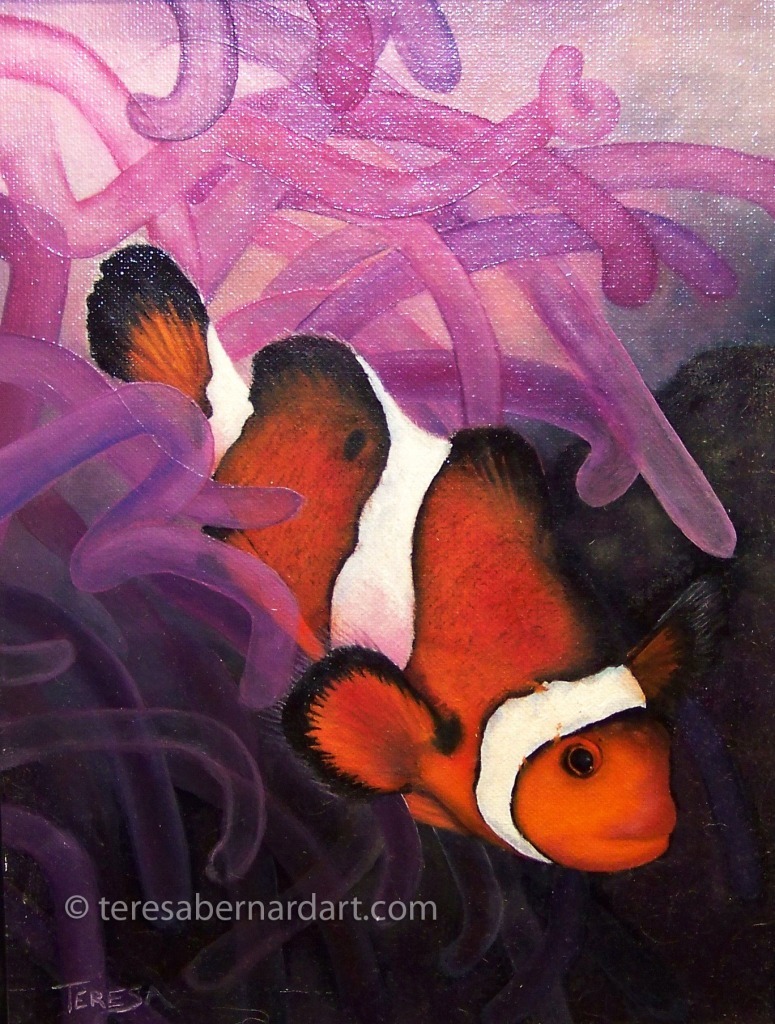 Size: 9″ x 12″
Support: Canvas panel board
Description: A rendition of a Clownfish swimming among sea anemones.
SOLD: This sea life painting was sold to a private art collector in Texas.
Artist Comments
Clownfish live in saltwater. They're also known as Anemonefish because they frequently live among sea anemones. They are brightly colored sea creatures that can be yellow, orange, reddish, or blackish in color. Many have three white bars or patches of white, depending on the species. Clown Anemonefish prefer the warmer waters of the Indian and Pacific oceans, the Great Barrier Reef, and the Red Sea. They are not found in the Atlantic Ocean, Caribbean, or the Mediterranean Sea.
My painting makes this tiny fish look much larger than it really is, as they only grow to between 3 and 7 inches in length. I was visiting a pet shop with my kids one day where some of these were fish on display. I was amazed at how tiny these wondrous sea creatures are!
Some Interesting Facts About Clownfish
All Clownfish are born male. However, later after maturity, some will become female.
They typically eat algae, zooplankton, worms, and small crustaceans.
Clownfish live in a "symbiotic" relationship with their host anemones.
They are extremely aggressive fish and will defend their territory and the sea anemone where they live.
The Clownfish will live up to 5 years in captivity and up to 10 years in the wild.
More information and photos of Clown Fish can be found here.
Have a question?
If you have a question about this painting, please contact us, and we'll be happy to answer any of your questions.
Teresa's Insider News
Be the first to know! Sign up here to be among the first to receive sneak peeks of recently completed paintings, new announcements, and other updates at the art studio.
Teresa has an insider newsletter, and it's FREE! This is her way of keeping her friends up to date by giving you sneak peeks of new paintings she completes, as well as other announcements before they are made public. Her newsletter is published every other month, so be sure to get on her mailing list. You don't want to miss a thing!
Your Feedback
♦ "Hi, I was just searching the web and wanted to look for original art, paintings, drawings to inspire me. I love your artwork. You have a realism that really caught my eye. I like the Clown Fish. The portrait of the man on the boat is fantastic. I have a God-given talent that I need to re-discover and seeing your site and reading your 'About Me' section was just what I needed. Thanks for doing what you do."
♦ "OUTSTANDING work! I am impressed, very nice artwork. I particularly liked the Clown Fish piece! Your site is also excellent. Thanks for visiting my site, requesting a link exchange, and any future correspondence. Keep up the great work (I know, cliché – but sincere)." — Jason S., College Station TX
Thanks for looking!
Feel free to share this with your friends.
---